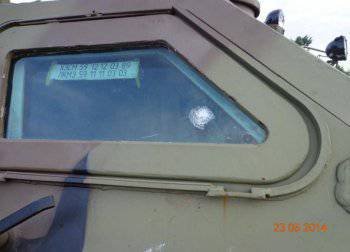 According to the
STATUS QUO
, with reference to the people's deputy, honorary president of the UPEC Group of Companies Anatoly Girshfeld, in the near future the Lozovsky Forging-Mechanical Plant will receive a large amount of defense orders.
According to the deputy, the Ministry of Internal Affairs and the Ministry of Defense of Ukraine are going to buy 200 armored personnel carriers, and there have been shifts on the Iranian contract. "Under this contract, work will continue in full - the supply of 420 armored personnel carriers minus the 90 that already exist. The official delegation from Myanmar will arrive at the plant, they have plans to purchase at least 200 armored personnel carriers. And as much, even more, is now in contract processing, "said Girshfeld.
He noted that Ukraine received orders for an armored personnel carrier in compensation "for the loss of the Russian markets." A significant part of the contracts will be at LKMZ - the main manufacturer of light armored vehicles. "Their implementation should begin in mid-summer. The plant should undertake the manufacture of a maximum set for armored personnel carriers. This will give work to other areas of LKMZ - blacksmithing and mechanical assembly. In general, the plant is changing its production structure: the railway line, frozen due to the shutdown of the car-repair factories, will be replaced by others, "the deputy added.
Meanwhile, as the blog reports
bmpd
, in the Ukrainian network sources there were pictures of the BMM-4С - the sanitary version of the BTR-4 - the National Guard of Ukraine, which came under fire between Slavyansk and Izyum.
Six BMM-4s were part of the 42 batch of BTR-4 units, which were intended for Iraq. The returned vehicles from this lot were handed over to the National Guard of Ukraine in April.
"And the cars we drive, do you know where are they from?" Do you remember, there was a scandal when Iraq refused Ukrainian technology? Here we gave it to us. She is not ready to fight, of course. Now and then repairmen from the factory come. We even had to give up one car, took another, "quotes the words of a certain warrant officer Roman from the Internal Troops of the Ministry of Internal Affairs of Ukraine.
"Vesti-Reporter"
.