The People's Democratic Party celebrated the anniversary of the withdrawal of Israeli forces from Lebanon by a parade including a replica of the Israeli tank. He was dragged through the streets tied to a donkey, and then burned.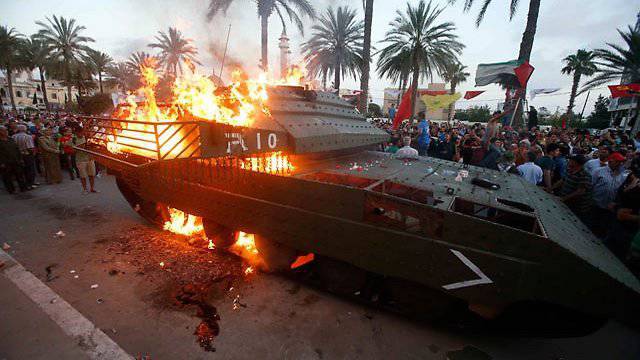 Lit "Israeli tank"
The anniversary of the withdrawal of the IDF from Lebanon in recent years has become a cult event in Hezbollah's glorification, and last Saturday (23 on May 2014), the organization celebrated it with the destruction of the model of the tank Merkava 4.
On the occasion of the 14 anniversary of the withdrawal of Israeli troops from Lebanon, the Democratic People's Party of Lebanon decided to mark this event in an original way. For three months, according to reports from Lebanon, more than 25 party members were busy building the Merkava 4 tank layout and spending more than 260 hours to build an exact copy of the "symbol of victory" and turn the "killing machine into an object of ridicule from the Lebanese people.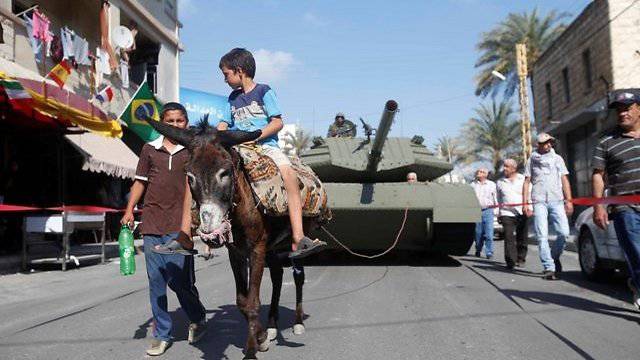 Donkey tows "tank"
So what did the model do? The imitation of the tank proceeded four kilometers through the streets of Tsidon in the afternoon, which was called the "Tour of defeat".
The model was tied to an ass, and the flags of Israel and the United States were dragged behind it. The model of the tank stopped in several places for ceremonies in honor of the Hezbollah fighters and other resistance groups.
The highlight of the evening took place on Ha Shuhada Square in Sidon, where the party held the main ceremony dedicated to the withdrawal of the IDF from Lebanon. In the artistic part of the program, members of the party acted as fighters, and the culmination was the destruction of the tank model, in which, among others, those present took part.
The party invited the public to the ceremony to participate in the destruction of the tank, including through billboards on the streets. This invitation was attended by emblems and other groups in Lebanon, including Hezbollah.