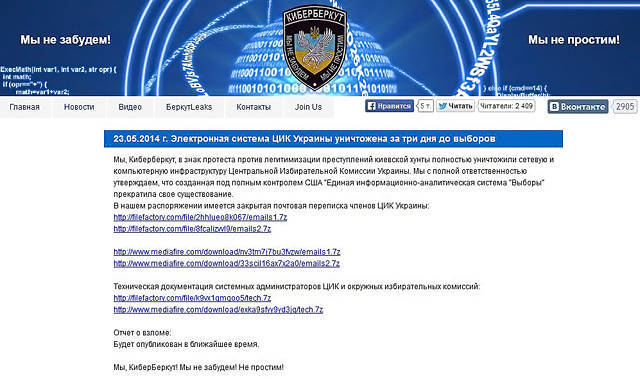 Two days before the presidential elections in Ukraine, scheduled for 25 in May, hackers of the CyberBerkut group, who have repeatedly uploaded to the Network documents compromising the new Kiev authorities, announced that they had destroyed the CEC electronic system.
"We, Cyberberkut, in protest against the legitimization of crimes of the Kiev junta completely destroyed the network and computer infrastructure of the Central Election Commission of Ukraine. We are fully responsible that the United Elective Information and Analytical System" Elections "has ceased to exist" - reported on the website of CyberBerkut activists.
They also assure that they have at their disposal a closed postal correspondence of members of the CEC of Ukraine and technical documentation of the CEC system administrators and district election commissions. Published on the site and the "report on hacking."
"Special thanks to the miracle admins who store data on access to network nodes in text files on the desktop for an exciting quest," hackers noted.
"We got full access to the official and personal correspondence of CEC members. From these documents, it becomes clear that Ukraine is losing its sovereignty at a catastrophic pace, and the junta's so-called presidential elections are organized according to Western instructions. A special place in the train of instructors belongs to International Electoral Systems Foundation (IFES) ". - reported on the CyberBerkut site.
On the eve of a number of media spread the information that the site of the Central Election Commission of Ukraine is not working because of a hacker attack. However, the CEC denied this information.
"The site conducts maintenance work of a technical nature on the eve of election day. Such work was carried out earlier in the past elections. The work is carried out to increase the efficiency of the site and increase its speed," - said RIA
News
Commission press secretary Konstantin Khivrenko.
As of 13: 00 (Moscow time), 23 may have no problems with access to the website of the CEC of Ukraine. True, the latest news published on it dates back to 17 April 2014. As for the statement of the CyberBerkut, so far the reaction of the Kiev authorities to it is unknown.