Minister of Foreign Affairs Sergey Lavrov answers questions from the media on the sidelines of the St. Petersburg International Economic Forum, May 23, 2014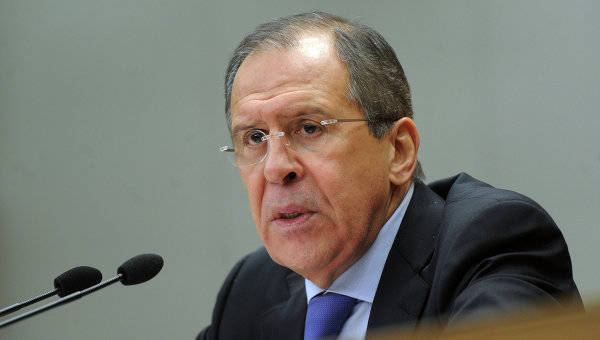 Question:
Is our country still
attractive and interesting for investors and foreign companies?
Lavrov:
As for the fact that our country is attractive, there is no doubt neither I nor the investors.
The fact that some did not come was a result of the intervention of politicians in the affairs of business, which is, in my opinion, unacceptable, and what our western partners always warned us against. Now they show a bad example. I hope that for us it will not be contagious. The results of the Forum will have to be judged by the specific cases and agreements that will be made here. It will become known in a day and a half.
Question:
What is Russia going to a new gas meeting with Ukraine and the EU?
Lavrov:
This question is not for me. In our country, diplomacy does not interfere in agreements concerning economic cooperation and the fulfillment of contracts concluded. Unlike our Western friends, the Russian Foreign Ministry does not interfere in the activities of economic entities. We help these processes. But trying to prohibit and dictate, as is now done, including from Washington, is not our methods and not our culture.
Question:
Is your meeting scheduled with US Secretary of State J. Kerry?
Lavrov:
He has gone. I haven't heard anything about him for about two weeks. Now our American colleagues have problems with a Palestinian-Israeli settlement, where, unfortunately, everything is deadlocked because we really sincerely wished them success, and with Libya, which NATO bombed. Despite our calls to somehow start gathering "Libyan fragments", they avoided political discussions in every way, saying that democracy had won there, everything was in order and there was no need to intervene. Now we are seeing alarming relapses. We wish success to our western colleagues and are ready to help. But they have to decide and understand what conclusions need to be drawn from the mistakes made.
Question:
Why didn't suit 27 May as the date of the meeting of the Russia-NATO Council?
Lavrov:
We all explained it. For almost a month, immediately after the events in Odessa, we demanded to convene a meeting of the NRC in order to honestly, openly, look each other in the eye, talk about how this could all happen. Western NATO partners refused to convene the Council. Suddenly, after our next reminder, they graciously agreed and said that they were ready to do it on May 27. We have no doubt that this is intended solely for the sake of legitimizing the elections planned for May 25 in Ukraine. We are also ready to meet after the elections, although the Russia-NATO Council is far from it. But the NRC has to do with the revival of neo-Nazism, the crimes that are committed by neo-Nazis, including in Odessa and other cities of the South-East of Ukraine, because we proclaimed in joint documents a common determination to prevent any manifestations of extremism in Euro-Atlanticism. They shy away from this discussion. Let's see what day will be convenient for everyone. I repeat, it was convenient for us any day after the Odessa tragedy, when we demanded an urgent convocation of the Russia-NATO Council.
Question:
I'm from Reuters.
Lavrov:
Congratulations, you are not forbidden to come here?
Question:
Why should have been banned?
Lavrov:
I do not know, everyone is banned, but you are not.
Question:
Day before yesterday
I was given accreditation, I can work in Russia for another year. I really like.
Lavrov:
Work
Question:
The upcoming 25 may elections in Ukraine, Russia considers illegitimate. How are you going to work with the new authorities?
Lavrov:
You and some of your colleagues have peculiar habits: you first make
a statement describing our position, and then your questions follow from this. We did not declare that the elections will be a priori illegitimate. German Chancellor A. Merkel, other Western leaders call us for this, are forced to declare that the elections will be a priori legitimate. But this is nonsense - how can you say in advance, a few days or weeks before the meeting, that certain elections will be legitimate? We will see what really happens, who will vote, how the vote will be organized, whether it will pass under the so-called cannonade. The "counterterrorist operation", in which civilians, Ukrainians, soldiers, and militiamen die, are victims on both sides. Used heavy machinery, including against residential areas. We will look at everything - how free will will be, and what will be its results. Unlike our Western partners, who stated in advance that the upcoming elections will be legitimate, we prefer to be guided by the facts and first look at the result. We expect a lot in terms of objectivity of election observation from the OSCE monitoring mission. Unfortunately, there is reason to think that the results will try to smooth and "slightly hide" the facts that are not very pleasant for the current Ukrainian authorities and their sponsors. I will give an example. I know from a number of sources that the European participants of the OSCE observation mission in closed reports sent to their capitals, recognize that in the South-East 70-80% of residents are not pro-Russian, but want federalization, accept the idea of ​​federalization. Publicly, our Western colleagues say that only a few, some insignificant percentages (bandits, terrorists) use the slogan of federalization, and the rest of the population of the Southeast does not want to do this, wants to leave everything as it is and live in Ukraine, which will not change. We will see what real estimates will be made and comparable with the conclusions that we make ourselves on the basis of the available information from various sources.
Question:
Is Russia planning to send a large delegation to the Ukrainian elections?
Lavrov:
You have probably heard today's statement by the State Duma of the Federal Assembly of the Russian Federation that our parliamentarians do not plan to send participants to the observer mission, including (and not least) based on security considerations and taking into account the Russophobic campaign unleashed by the Ukrainian authorities accusing Russia in all mortal sins. Thus, the current authorities deny part of their people the right to take an independent position with regard to the future of their country, deny residents of the south-eastern regions the right to advocate for securing and strengthening their rights as part of Ukraine, but with a significant expansion of authority in terms of the choice of their leaders (direct gubernatorial elections), using the language they want to speak. For the average person who turns on the TV and hears slogans, this is a fairly acceptable thesis, which is now "chased" on all TV channels and Western radio stations, namely: that everything is organized by Russia, some special forces work there, and they start simple naive Ukrainians to create militia. We have repeatedly proposed to submit at least one specific fact of our involvement in these processes. Not a single fact has been filed. I asked the US Secretary of State J. Kerry and our Western European partners about this. They have no such facts. That's all.
Question:
How can Russia be able to establish how objective the elections were if there are no Russian observers there?
Lavrov:
In our age of electronic media, this is not difficult.
Question:
The last pools show that P. Poroshenko is leading in the presidential elections in Ukraine. To what extent can he be an acceptable candidate for Moscow to start negotiations?
Lavrov:
He or someone else - for Moscow does not matter. He or she must be acceptable to the Ukrainian people. As I have already said, we will determine our attitude to the elections on the basis of an assessment of the results of the voting and the acceptance or rejection of a person by the Ukrainian people, the Ukrainian voters. If we talk about relations between Russia and Ukraine (and this already concerns us and the Ukrainians), of course, we will be judged by the specific cases of a person who will be elected president of Ukraine, with the understanding that the elections will be free, fair, fair and unpaid. I hope that the threats that sound among candidates for the presidency that if the election results are not satisfactory to any of them, there will be a third wave of revolution, also heard in the West, especially by those who claim that only Russia is interested in disrupting these choices.