According to the Crimean authorities, the Ukrainian side, for its part, installs water meters on the North-Crimean Canal. This is done to take into account "every drop" of water, the price of which for the Crimeans Kiev plans to raise about 50 times. If such a tangible price increase occurs, it will take approximately 1,2 billion rubles from the Crimean budget in addition. Reports about it
ITAR-TASS
.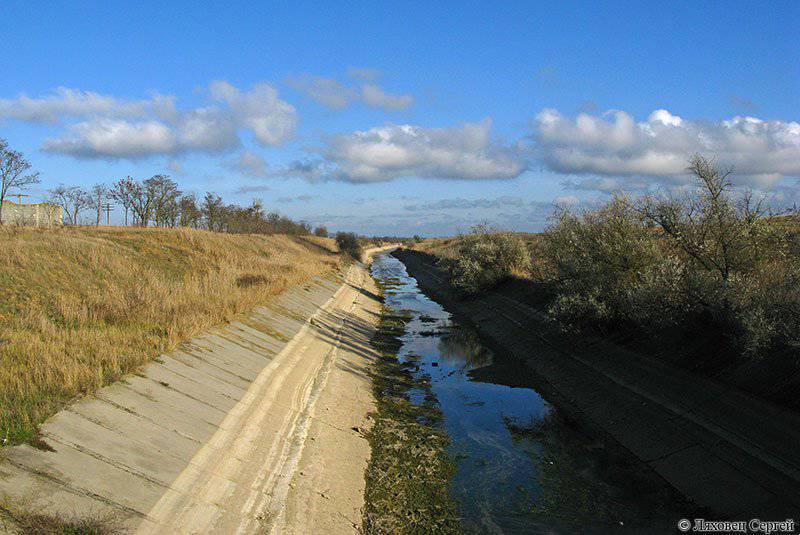 Chairman of the State Council of the Republic of Crimea, Vladimir Konstantinov, said that this state of affairs is unacceptable. We need to look for an alternative to the supply of water from Ukraine, and, according to him, the Crimea has such an alternative. One of the ways out of a difficult situation is to minimize water losses for irrigation of agricultural land. According to the management of the Republic of Crimea, today such losses reach almost 60%.
More than half a century, the North-Crimean Canal was the main aquifer for the Crimea. Through it, the peninsula received more than 80% water. In late April, Kiev decided to stop the supply of water to residents of the Crimea, saying that it was not he who blocks the water, but the fact that the Crimean authorities themselves could not figure out the effective operation of pumping stations. However, photographs of the dry entry point of the North-Crimean Canal proved that the Maidan authorities are once again lying.
After the conditions of Kiev on the 50-fold increase in the price of water for the Crimea, the Government of the Republic decided not to spend money on repairing the canal, believing that even on such conditions Kiev would not give water, but would simply take a lot of money from the Crimeans.
Acting Head of the Republic Sergey Aksyonov:
For our sake, from the point of view of calculations, these questions (about the repair of the canal - note "VO") were cut off for an indefinite period. We believe that Ukraine will not give us water.

Ukrainian media (
UNIAN
) after such a decision, the Crimean authorities came out with materials that Aksyonov was ruining Crimean rice-growing.