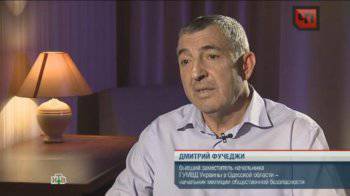 According to the
"RT in Russian"
, on the NTV television channel, the former head of the Odessa militia, Dmitriy Fuchedzhi, spoke, saying that the Odessa events of 2 in May had evolved according to a scenario prepared by the new authorities in Kiev.
"The governor of Odessa (Vladimir Nemirovsky) went three days before to the presidential administration (Oleksandr Turchynov), where he received valuable instructions, and after that Parubiy (secretary of the SBU) arrived. The task was put on top, and the governor performed it implicitly, "he said.
Fuchedzhi noted that the Maidan militant groups, led by Parubiy, began to come to Odessa from mid-April. "Paruby and his people came to Odessa, realized the plan they had in mind. It was realized, a fact on the face ", - he said.
According to him, shortly before the 2 events of May, the leadership of the Ministry of Internal Affairs was convened for a meeting.
"If we were in the workplace, we would know that these people (Maidan militants) were removed from the roadblocks, that a large number of people are gathering at Cathedral Square, that additional reserves must be tightened. We could not do this, we could not monitor the situation, "Fuchedzhi added, noting that the meeting was held" in the context of a provocation. "
In addition, Fuchedzhi personally supervised the work of the investigative team on the night of 2 on May 3. According to him, on the bodies of the majority of the dead there were no "external injuries" and "burnings".
Also, the former police leader denied reports from the Kiev-based media about a grenade thrown at the Maydanovites by supporters of federalization.
"She exploded under the table, and it was obvious that the people who were at the checkpoint had her on her, and she was just blown up. Six representatives of the Maidan suffered. They did not feel pain, although everyone was injured. They were either under a drug or under other doping, "he said.
According to Fuchedzhi, he is sure that he did the right thing when he released the detainees after the Odesa residents blocked the MVD building.
It is worth noting that on May 7, Dmitry Fuchedzhi had to secretly leave the territory of Ukraine. At the moment it is located Transnistria.