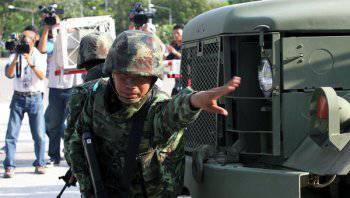 According to RIA
"News"
The two-day talks between the political forces of Thailand, organized by the military, ended in complete failure. Participants in the nine-year political conflict have not been able to establish a constructive dialogue. In all likelihood, it was precisely the inability of civilian politicians to come to an agreement among themselves that caused the military to seize power.
The military government has not yet communicated a specific program of its further actions, but the hint of long-term plans is clearly seen in the first television appeals to the nation, observers say.
According to the head of the new government, General Prayut Chan-Och, the armed forces take power into their hands in order to prevent further bloodshed and carry out "reforms of the political, economic and social structure of the country."
For all the 18 military coups that have taken place in the country since the end of World War II, the military have for the first time declared the need for such reforms.
It is possible that they will not give up power to a civilian government until these reforms are completed, or at least launched, the agency said.