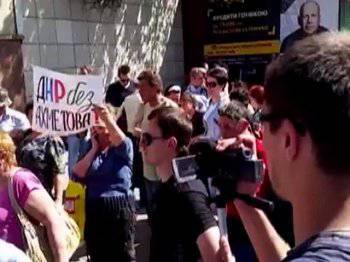 According to the information agency
"Vesti"
, on Wednesday at the enterprises of Mariupol, owned by the Ukrainian oligarch Rinat Akhmetov, two pickets in support of the Donetsk People's Republic took place.
Supporters of the Donetsk People's Republic, opposing the policies of Metinvest shareholder, billionaire Rinat Akhmetov, gathered at the entrance of Azovstal.
"Not all people are bought and sold here," said Alexander, a member of the DNR initiative group. "Donbass is not for sale!"
It is worth noting that earlier Akhmetov called on the workers of Donbass to launch a warning strike against the DPR, interrupting work every day for exactly three hours. Those employees of the metallurgical plant, who did not want to participate in the rally in support of a united Ukraine, were threatened with dismissal.
Recall that the head of the Presidium of the Supreme Council of the Donetsk People's Republic, Denis Pushilin, said that nationalization had begun in the region "due to the reluctance of regional oligarchs to pay taxes to the DPR budget." The republic has already gained control of the Donetsk railway.
According to RIA
"News"
, Kost Bondarenko, Chairman of the Board of the Institute of Ukrainian Politics in Kiev, notes that Rinat Akhmetov, the owner of System Capital Management, headquartered in Donetsk, is trying to keep his business playing on the interests of either the east of Ukraine or Kiev.
"Rinat Akhmetov now behaves, let's say, rather non-systemic, which is uncharacteristic for him. Akhmetov is trying to find himself in the new coordinate system. And he understands that he is between several lights, "the expert said, adding that the oligarch has no guarantees from the Ukrainian authorities," as was the case in 2005 year. "Then he flirts with the so-called separatists, then when they start to get out of control, he tries to find some tools to contain them," said Bondarenko.
At a recent speech, the "people's mayor" of Slavyansk noted that Akhmetov continued to push through his "own" version of the DPR, including both the political and military components.