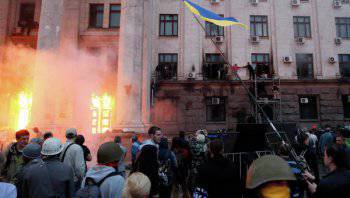 According to RIA
"News"
, representatives of the Ministry of Internal Affairs of Ukraine said that they managed to arrest the organizer of the riots in Odessa - a local resident nicknamed "Captain Cocoa."
"During the operational-search activities, the law enforcement officers detained and then arrested by the court, Sergei Dolzhenkov nicknamed Captain Cocoa. Now, the investigation has already established the involvement of this citizen in the organization of the Odessa tragedy, "according to the website of the Ministry of Internal Affairs of Ukraine.
According to police officers, Dolzhenkov's father, who previously held the position of rector of a police university, tried to arrange for his son to flee abroad. For this, they even changed his appearance with the help of a make-up artist. In addition, in the House of Trade Unions, his pistol was discovered, which he received while still serving in the police. "So they tried to pretend that he also died during the fire," - said the Interior Ministry.
Earlier, the head of the Ministry of Internal Affairs of Ukraine Arsen Avakov made a statement about the involvement in the Odessa tragedy of local politicians, headquarters of candidates for the presidency, law enforcement.
According to the information agency
"Vesti"
Recently, Russian President Vladimir Putin said that if an adequate assessment of the nightmare and horror in Odessa is not given, this could happen again in the future. Ukrainian authorities continue to turn a blind eye to all the new details of terrible events, attracting euromaidan supporters to investigate.
In particular, the investigators worked in the building of the House of Trade Unions for less than a day. A large amount of material evidence was lost: bullets, fragments of clothing soaked in incendiary mixture, chemical ampoules. Only two weeks later the building was fenced for further investigative measures.
Among the 17 people who were arrested in connection with the tragedy in Odessa, there was only one militant who is currently under house arrest. All the rest are unarmed citizens who tried to defend themselves against punitive.