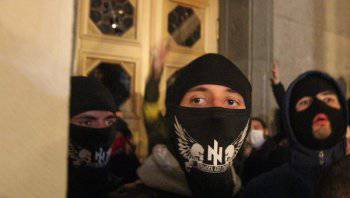 According to RIA
"News"
, the deputies of the State Duma of the Russian Federation adopted in the first reading a bill providing for the equalization of the symbols of organizations that collaborated with the fascists, including the followers of Stepan Bandera, to the Nazi.
The amendment was prepared for article 20.3 of the Code of Administrative Offenses of the Russian Federation (CAO), which provides for punishment for the public display of symbols or attributes of organizations conducting extremist activities.
The list includes organizations that have collaborated with fascist movements and organizations, as well as with international or foreign organizations or their representatives who deny the Nürnberg Tribunal's verdict, as well as military, national or occupation tribunals, which are based on the Nürnberg Tribunal's verdict.
According to one of the authors of the bill, the Vice-Speaker of the State Duma, Sergei Zheleznyak, at the moment activists are promoting Nazi and extremist activities with the help of paraphernalia and symbols of organizations that collaborated with the Nazis during the Great Patriotic War. In particular, such organizations took an active part in the Ukrainian coup, using the symbolism and attributes of the nationalist movement Stepan Bandera.
Zheleznyak noted that fascism and radical nationalism threaten the constitutional structure and security of any civilized country, but the West closes its eyes to the revival of radical nationalism on its borders.
The new bill will increase the effectiveness of measures aimed at countering extremism, Nazism and fascism, as well as other actions that insult the memory of the tens of millions who died in World War II, summed up Zheleznyak.