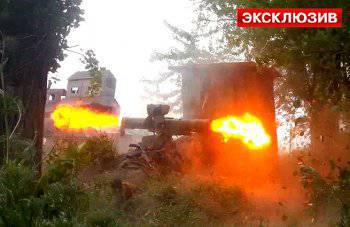 According to the
LifeNews
, the militia of the Donetsk People's Republic attacked the roadblock at the village of Cherevkovka, located between Slavyansk and Kramatorsk. According to representatives of the self-defense staff, this is the only roadblock on the Slavyansk-Donetsk road, controlled by the Ukrainian military, who don't miss repairmen to repair the gas pipeline and water supply system.
The battle at the roadblock lasted about 40 minutes. The militias opened fire with an anti-tank guided missile, anti-tank guns and a large-caliber machine gun "Utes", knocking out one of the Ukrainian military armored personnel carriers.
"A mobile self-defense group attempted to take a roadblock outside the village of Shardragovka. This road connects Slavyansk with Donetsk. National Guard applied heavy machine guns. After the heavy armored vehicles were involved, the militia retreated, "a LifeNews correspondent reported.
"During the day, we exchange" courtesies "with the ukrami. We fired them from the "Cliff" and PTRS (and also not very successfully fired ATGM) - beat on the block between Slavyansk and Kramatorsk. In retaliation, they "equate" Semenovka from howitzers. Including - the residential sector. We have no casualties in the militia yet. They - I think there is. A pair of BMDs were put out of action for sure (although they did not burn down), "says Igor Strelkov's comment.
"Russian Spring"
.
Meanwhile, the news agency
"Vesti"
reports that as a result of shelling from howitzers and mortars in Kramatorsk, the water supply line was killed. In the city a lot of destruction, shells burst right on the streets.
"The Ukrainian army is shelling residential areas from mortars and grenade launchers, from howitzers. Also, snipers are firing at civilians, armed, at all who they see. Miraculously, no one was hurt at this stop. Here was a girl. She survived, "said the representative of self-defense.
As noted by
ITAR-TASS
, artillery shelling of Slavyansk and adjacent settlements from the Karachun mountain, where the positions of the Ukrainian security officials are located, are also under way. There are reports of partially destroyed residential buildings in the village Semenovka. In addition, a representative of the Slavyansk militia reported that one of the local residents received a shrapnel wound to the head.
"An ambulance took her to the central city hospital named after him. Lenin in the surgical department. Currently she is undergoing an operation, "he noted.