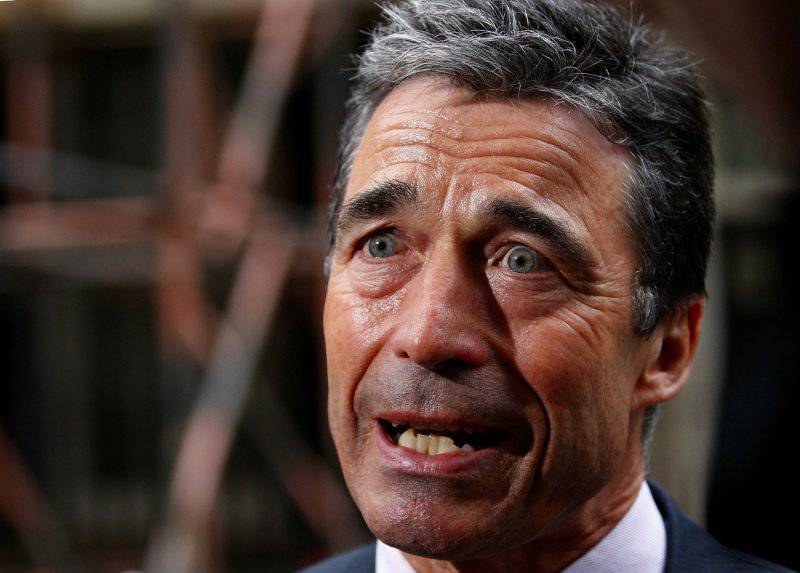 The Secretary General of the North Atlantic Alliance Anders Fogh Rasmussen 15 May accused Russia of not having done anything to fulfill the Geneva agreements on Ukraine.

He also spoke of the need for a "more visible NATO presence on the Alliance's territory," stating that NATO's military presence in Europe is already expanding. NATO Secretary General warned that due to the crisis in Ukraine, the alliance's teachings will be more frequent and "more visible."
Andryukha, dear, he would have said that. We would understand. Though we are barbarians, but with the concept we are fine. The crisis in Ukraine, the Ukrainian language if you, "to the wind." As your pseudo-maneuvers in the Baltics.
It has long been clear that Kiev, that the Geneva Agreement side by side. The main thing is that Russia does nothing. It is not clear, however, that in your opinion she should have done. Okay, digging like woodpeckers about the withdrawal of our troops from the border with Ukraine. Nate, set aside. Again, not so.
In Geneva, the aforementioned agreed that it was necessary to stop the violence, to release all captured buildings, to disarm illegal formations, and also to grant an amnesty for all the protesters except for those who committed a serious crime.
And where is Russia? Is Russia supposed to free the buildings on its own? And pravosekov disarm? Why Russia? Why not the United States, they are the first peacekeepers ... Why not the OSCE? What light came together? Apparently, yes.
It turns out that everyone can sit down and watch folded hands, but Russia cannot? Oh, and you have democracy there, Andryukha ... You will become blue with anger.
"Unfortunately, I must say that we did not see any evidence that the Russians began to withdraw troops from the borders of Ukraine," Rasmussen said at a press conference in Brussels.
I wonder how this had to be proved? Actually, the troops themselves were not found, although they were looking for, now we take away - again, not so. Probably, they had to be taken out through the ISS, so that it was visible from Brussels. Or aircraft carrier pick up. From Belgorod region.
Andryukha, you are closer to reality. Russia is not Denmark. This in Denmark you can see from one angle through binoculars. We have to fly like. Get used to it. Want to see something - get closer.
More frequent and more prominent teachings - how was that of the Balts? That is, the pissing boys will also be added to the peeing boys? Or more frequent and noticeable - is it part of enuresis?
Andryukh, this is all rzhak, of course, but you don't need to offend us, huh? You're screaming something awesome, yes, and you send 500 some kind of infantrymen for maneuvers. Are we all here from such a figure should be described? Are you generally aware of the courses that we have on the last maneuvers of one hundred and fifty thousand tusilo? Do you even figure such a figure in your head? Well, it's like ten of your armies in Denmark. With scribes, cooks and other scum.
NATO at our borders is not, not ice. Well, your decided to spend the holiday season in Lithuania, no problem. We do not mind at all. We have enough eyes for the Crimea. And the sea is warmer, and wine, and fruit. And the people are more friendly. Polite people.
Won our Putin went to China, right now, we will show you how to conduct exercises. To be noticeable. Look east more often. Look east.