New worldview or propaganda?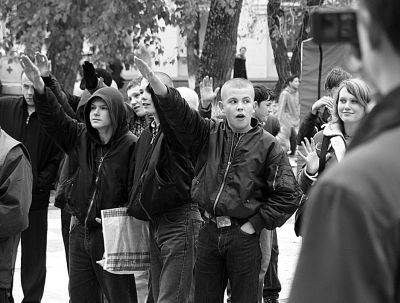 "Hope for the young add us ... Despair"
Any person at least once in his life thought about old age and summing up personal results. Surely in my head I ran through the thought of how everyone would be respected for some actions and a decently lived life ... But all this is mostly a myth. Why? The answer lies in the modern attitude towards the elderly, especially since most of them carried the burden of military life on their shoulders. Now television and many organizations are talking only about helping veterans, about being surrounded by their care, etc. etc. But what will be if to glance on that side of the screen of life polished to shine? Unfortunately, the youth is getting farther from the ideals of the past century, and accordingly farther from the omnipresent truth. To those who are 12 old, they say that all soldiers are Nazis, and their fathers and grandfathers are traitors and perverts. Who has the milk on the lips slightly dried, put forward more courageous points of view, sometimes accompanied by illegal actions (beating, robbery, murder). To prove this, it is enough to look for the answer in the Runet blogs or on the pages of social networks. Here is what is commonly found on the web on this topic:
"I hate those old killers. And let them say as much as they like that they only defended someone — this is complete nonsense. When, together with the Germans, Poland was captured (at the beginning of the Second World War), they did not particularly defend anyone. And with what rapture they talk about victories and how many Germans they killed - I want to vomit ... "
Bad attitudes are often associated with ignorance of such simple school discipline as
история
. The fact is that lately it is fashionable to drive thoughts into the children's head about the strength of their personality or individual with the possibility of self-expression, it is they who are called to choose their own way, therefore, adolescents have enough knowledge obtained from highly dubious Internet sources. So, having gained enough "intellect", the so-called "shkolota" with already brainwashed and completely misinformed begins to spill its aggression on electronic pages, like chain dogs, barking at something they, alas, cannot understand. And half the trouble, when the case is limited only to angry messages, but there were cases when there were few words for some "characters" and they tried to bring the arguments with their feet, hands, and also heavy mutilated objects. By the way, there are a huge number of such examples. Simply enter the phrase "beating of veterans" into any search engine of the Runet and the result will be able to shock not only mentally unstable people. Thousands of links will tell about the huge number of cases of violence against the elderly. What will grow out of this decaying mass of savages, if not seriously intervene?
Most likely, regular shaved alcoholics with a swastika on their sleeves, "pushing" serious speeches about honor and justice, quoting Adolf Hitler's "Main Kampf", but not knowing their true roots, are such serious "personalities" with a foreign god in their hearts to respect the old man will, and even betray their homeland for a penny.
"Let them go to hell! I am fed up with their pretentious demonstrations addressed to today's youth! These old men and nags cause my gag reflex with their rusty, wrinkled faces and "the fact of defending the fatherland from the Nazi invaders." However, the "People" dissolving the dubious information about the war, we have always been in high esteem. However, I am still pissed off by the pithiness of these fucking old men and old women, as well as the struggle that they waged in primitive times ... "
People are always surprised to be ready to trample on any merits of others in order to somehow elevate themselves in some magical way. This message was left entirely by the young "talent", who believes that the whole world already owes something to him from birth. One gets the impression that the military orders of our grandfathers are like badges on the bag of an embellished representative of EMO culture - who have more of them, cards in their hands. This category of persons includes so-called informal groups. These "subjects", otherwise they can't be called, are trying to revive anarchy, thereby challenging not only the older generation, but also themselves. Surely "nice" to feel like a defenseless creature in a constantly changing dangerous world. A kind of a stalker to be in dilapidated cities with the sole desire not to die of starvation or a stray bullet.
It is terrible to think, but it is these very anarchists who are the very first to fall under the "distribution" in case of the onset of a deep social crisis. No one will defend them, and no one will have to teach freedom-loving young people to behave in a proper manner, threatening to give everyone to the troublemaker with a cane on the head. Nevertheless, it is not forbidden for anyone to consider himself a demigod, but, nevertheless, it is very detrimental to his own health.
And finally, the most exciting message:
"Once again, television is torn apart by pretentious templates! Stirlitz in color done! Just who needs it? Has touched a vile lie about the destruction of the allies of Dresden. The old man in medal until the shit out, argued that the British did everything to obstruct the passage to our Berlin, blowing up the bridges. Not only did the grandfather boast about how, in their youth, the brave ones painted signs with the name of cities in German, to put it mildly, in the spirit of "You're lying! You won't take it." Only the first word is the device between the legs. It is not difficult to guess, in retaliation, the red fucked Fritz wives. The fact is undeniable! Then they talked nonsense about the assassination of the lamb of God's Comrade Stalin in Tehran. Then they persecuted how brave our soldiers killed only fascists, but the allies were only German civilians. Then there was one grief for the whole of Europe, but it turns out that all the laurels scooped in and did not rejoice to this day. Last year, they obseralized the French that they surrendered without a fight. Know the veteranki! To listen to them, in part, the same fascists have become, and maybe they were. "
War is war, with all its dirty consequences, but you need to have even the slightest idea of ​​who a real Soviet person is and what his moral values ​​were. It is completely incomprehensible where young people are slipping, and whose ideals they live in also remain a great mystery. To speak with confidence about what is probably impossible to know, and to believe the rumors is the first sign of a close mind. Is it possible for modern man to realize the full power of the social machine of the Stalin era? What can we say if people did not hang locks on their own houses at that time, because trusted themselves and were honest before society and god. What now? Now crowds live, like parrots, in the cells of their own ambitions and pride, gradually degrading, infecting with their hatred for everything that casts a shadow, an increasing territory. It remains to hope that not everyone follows this shaky path of ignorance. There are many excellent examples of the fact that the younger generation has a future with its own conscience, for example, the creation of various volunteer squads in all cities of our country. These volunteers try to help all the needy old people in the most ordinary things (cleaning the territory, going to the store or pharmacy, etc.).
However, let's not forget that there are problems not only among the younger generation. What are some of the scam officials with housing for older citizens. These fat muzzles are ready for anything to put a few extra thousand dollars in their piggy bank, and this is sometimes much worse than a spoiled ideology, because, as you know, a person is known by deeds and not by thoughts.
Ctrl Enter
Noticed a mistake Highlight text and press. Ctrl + Enter