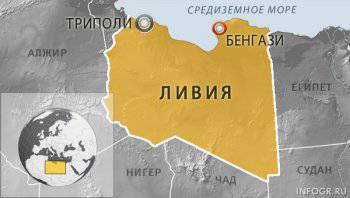 According to RIA
"News"
A spokesman for the law, Omar Bush, said that a group of armed men seized the building of the Libyan parliament in Tripoli on Sunday and attacked parliamentarians' offices, referring to the Reuters news agency.
It is noted that supporters of the rebellious General Khalifa Haftar, who wanted to arrest the Islamists, participated in the attack. Armed people set fire to the building of the Universal National Congress, blocking the adjacent streets. Congress members had time to leave the building.
It is also reported that on Monday, unidentified persons fired rockets at an air base in Benghazi. "The missiles were fired at the base, but there were no serious consequences," said base commander Colonel Saad Verfally, adding that the Islamists had organized the attack.
It is worth recalling that last Friday, the forces controlled by General Haftar attacked the positions of the Islamist groups February 17 and Ansar Sharia, without notifying the current authorities of Tripoli. 79 people died in the clashes, more than 140 people were injured.
General Haftar was still in service with Gaddafi. At the beginning of the 1980s, he immigrated to the United States due to disagreements with the current regime. He returned to Benghazi in November 2011 after the start of the uprising. Later he entered the command of the newly formed armed forces, but in February 2014 of the year unexpectedly announced the suspension of the work of the provisional authorities and the parliament, which was regarded as a failed coup attempt.