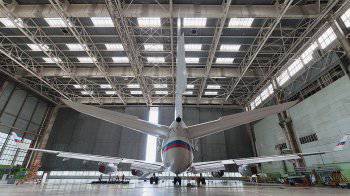 Newspaper
Kommersant
announces that the management of the Voronezh Aircraft Building Society OJSC announced that it agreed on plans for the production of 14 new IL-96 of various modifications up to 2024 of the year. Orders for them came from various government agencies, and one of the aircraft will be made specifically for Defense Minister Sergei Shoigu.
"To date, plans have been agreed and signed for the production of new Il-96 aircraft of various versions for government customers. These aircraft will be built by us, at the Voronezh aircraft factory. It is assumed that in the period from 2014 to 2024, the year of the whole will be produced and handed over to 14 customers of this type of aircraft in passenger versions with different layouts of the passenger cabin, as well as in special versions, "said VASO General Director Sergey Yurasov.
According to Yurasov, the plan for the production of IL-96 is "quite ambitious," but the plant's specialists "carefully, at all levels, analyzed the possible risks." At the moment, "the recruitment of personnel, primarily of the main production workers, is actively underway."