Oligarch Akhmetov warns Donbass against joining Russia
Oligarch Rinat Akhmetov, who is considered to be the richest man in Ukraine, told the residents of Donbass about the prospects that the region expects depending on the path chosen by local residents. Akhmetov believes that the most favorable option for Donbass is to change the Constitution of Ukraine and decentralize power in the country. At the same time, the owner of the Metinvest group believes that the Donetsk residents will be happy only if they continue to perceive Ukraine as a single state and will live in such a state. Reports about it
RBC Ukraine
.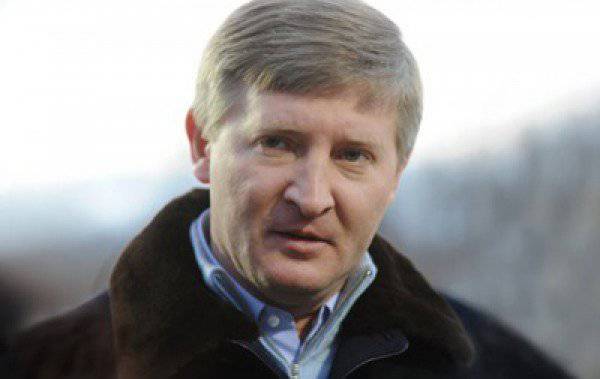 At the same time, Akhmetov made it clear to the residents of Donbass that he was against the region joining the Russian Federation, stating that after such a step, nothing good should be expected of either Donbass or Russia, given the sanctions that could be brought down by foreign states.
Rinat Akhmetov:
I am deeply convinced that neither Russia nor Donbas needs this. And neither Russia nor Donbass will benefit from this. We will fall under huge sanctions, and in the same way we will not be able to either sell or produce our products. It means economic recession, unemployment and poverty.

The oligarch said that the previous version of the state system, when all the levers of control were in Kiev, had completely outlived itself, and it is necessary to take a significant step to strengthen local authority, including through regional elections.
The piquancy of the situation is that representatives of the Donetsk anti-Maidan (in particular, the people's governor of the Donetsk region Pavel Gubarev) recently announced that it was Akhmetov who financed pro-Russian rallies in the region. Akhmetov himself refuted such statements:
Pavel Gubarev said that I bought two thirds of the activists. I tell you with confidence, I did not give anyone, and I will not give a single cent. And the most important thing: I did not outbid anyone, I persuaded them. And if I have already persuaded two thirds, I will persuade further. People came to me with some arguments, but left with others.
- quotes Akhmetov
Of Korrespondent.net
.