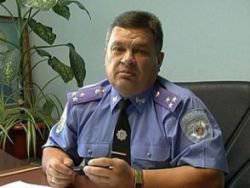 According to RIA
"News"
On Wednesday, representatives of the Internal Troops of the Ministry of Internal Affairs of Ukraine reported that unknown armed people took hostage Colonel Yuriy Lebed.
"On the twelfth of May in the evening, when the Acting Colonel Yuri Lebed, head of the Eastern Operational and Territorial Association, was returning home from service. Unidentified armed men seized a soldier by force, "the ministry said.
As noted by
novorus.info
, during the Euromaidan, Swan was at the head of a special-purpose regiment of the Interior Troops of Ukraine in the Crimea. After the peninsula became part of Russia, he did not want to take Russian citizenship, fearing that the facts about his criminal activities would be revealed.
Earlier, the head of the Eastern Territorial Command stated that he was ready to destroy civilians in the Donetsk Republic, regardless of anything, by any means. He also spoke about the readiness to personally shoot at the Ukrainian military and police officers if they refuse to go against the people.