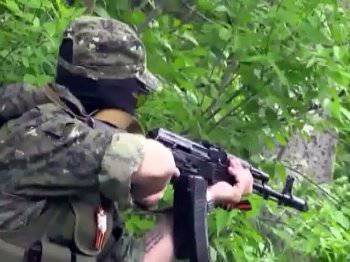 According to RIA
"News"
On Wednesday, a press conference was held with the participation of the "people's measure" of Slavyansk, where he reported on the formation of the first battalion of the army of liberation of Donbass based on the people's militia.
In addition, Ponamarev noted that the past day was relatively calm, but he could not manage without victims. As a result of the clashes, one militia was killed, several were injured.
Information Agency
"Vesti"
notes that over the past few days, the Ukrainian security forces suffered heavy losses in the battles of Kramatorsk and Slavyansk. According to representatives of the militia, the military do not dare to begin the assault. Instead, daily shelling of the outskirts of mortars and artillery.
It is noted that the deputy commander of the Donbas people's militia, Sergei Zdrylyuk, gave the Ukrainian security forces 24 hours to withdraw troops.
"If armored vehicles are not driven away, checkpoints of the so-called" legal authority "are not removed, I have enough strength and means, the commander supported me today. All this will be destroyed and burned. Intelligence and sabotage groups are ready to move, and some are already in position. I give twenty-four hours to the withdrawal of all troops, all forces, "he said.