Medvedev is going to "cut" the state apparatus by 10%
Prime Minister Dmitry Medvedev announced another initiative to reduce the number of civil servants. This time we are talking about an optimization program, in which the reduction will affect 10% of the number of employees of various government agencies of various levels. This is the official
Russian Cabinet website
.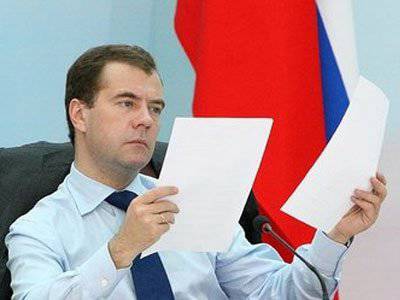 Dmitry Medvedev instructed the Ministry of Finance before July 1 to submit proposals on the optimal reduction of the number of government employees.
The prime minister, during his speech before the State Duma 22 deputies of April, started talking about the need to think again about the need to reduce the state apparatus at various levels. According to the chairman of the government, Russia needs a compact and efficient state apparatus, which is oriented on citizens' requests.
New cuts are planned to be made both at the regional and at the state level.
The initiative itself Medvedev causes approval from the Russians, but not everyone is confident in its implementation. According to opinion polls, more than 82% of Russians advocate a reduction in the number of the state apparatus.
At the same time, the overwhelming majority of respondents are not sure that the optimal reduction will be carried out in reality. The main reason for such skepticism is that there is systematic talk about reducing the number of officials in Russia, but they do not always lead to a result. So, Medvedev's previous order to reduce the state apparatus by 20%, in his own words, was implemented "somewhere better, somewhere worse."
ITAR-TASS
presents an infographic on the change in the number of civil servants in the Russian Federation in recent years: