On his Facebook page, Oleg Tsaryov, who had recently withdrawn his candidacy from the presidential elections in Ukraine, recorded that the coordinating council of the South-East movement is adopting a resolution to protect the state sovereignty of Donetsk and Luhansk People's Republics.
Oleg Tsaryov writes that the resolution was adopted on the basis of the voiced results of the referendum, according to which the Donetsk People's Republic and the Luhansk People's Republic were proclaimed sovereign states.
The full text of the resolution can be found on the website of the coordination movement.
"Southeast"
.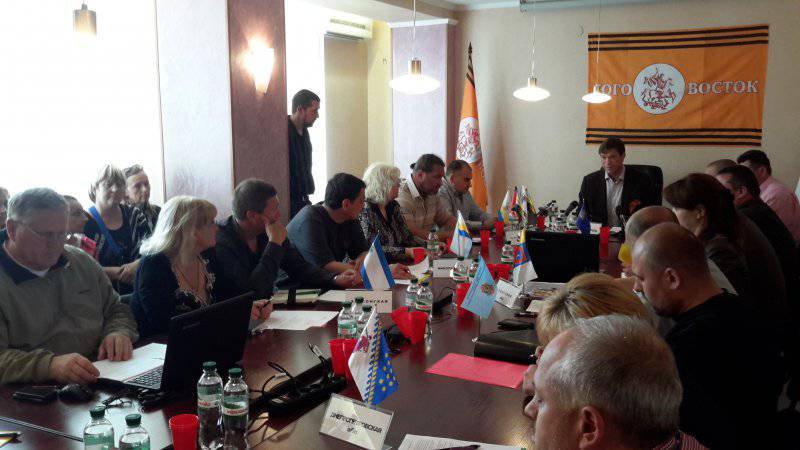 The resolution consists of several main points, revealing the essence of the formation of the management system of new state bodies. In particular, a plan of action in the political field is presented. Among others in this chapter there is a clause with a proposal to other regions of Ukraine on the creation of a Federal Republic of Novorossia, as well as a clause on preparing for the drafting of the Constitution of Novorossiya, which (the Federal Republic) will initially include the DNR and the LPR.
The resolution calls upon Kiev to stop the punitive operation in the southeast, as well as the call for Russia and Belarus to accept the NRF into the Union State, plus a call for Kazakhstan to accept the New Russia into a single customs space.
The section on state-building contains paragraphs on the creation of parliaments of the LPR and the DPR, declaring state borders of republics with the reassignment of check points at the Ukrainian-Russian border to the authorities of the DPR and LPR.
In the economic field, the authorities of the republics announce the nationalization of Ukrainian property on the territory of the DPR and LPR, imposing a ban on shale gas production, refusal of customs control at the border with the Russian Federation, confirmation of duty-free trade with the Russian Federation and other CIS countries.
The final chapter of the resolution concerns the creation of the governing bodies of the Federal Republic of Novorossia with presidential and parliamentary elections, and other federal authorities.