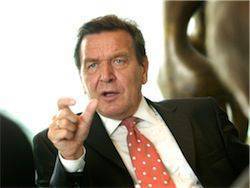 Gerhard Schroeder warned the West against toughening sanctions against Russia The authorities in Kiev should stop the military operation and establish a dialogue with representatives of the east of Ukraine, the former German chancellor said.
Former German Chancellor Gerhard Schroeder warned Germany and other Western countries against tougher sanctions against Russia because of the crisis in Ukraine. About this the former head of the German government said in an interview with the newspaper Welt am Sonntag.
In his opinion, instead of taking new measures of pressure on Moscow, the West should take more account of the interests of the Russian Federation in the field of security. "In this regard, I advise you to resist - for a long-term perspective - the American pressure on the issue of strengthening the sanctions," said the ex-chancellor.
Germany for Russia plays a central role, Schröder believes. "We are the most important partner of the Russian Federation in Europe, not only from an economic point of view, but also politically," he said. "Therefore, the role of the government of the Federal Republic of Germany is so important here"
Referring to ways out of the Ukrainian crisis, Schroeder called on the authorities in Kiev to stop the use of force in the east of the country. "The Ukrainian government should now use any chance for a peaceful settlement of the conflict," he said. "If it does not do this, then it will be irresponsible." The authorities in Kiev, according to him, should "be ready for a national dialogue with representatives of the east of Ukraine and stop their military actions." "The EU needs to put pressure on the government in Kiev so that it takes the right path," Schröder emphasized. "The key to a peaceful solution lies not only in Moscow, but also in Brussels, Washington and Berlin."