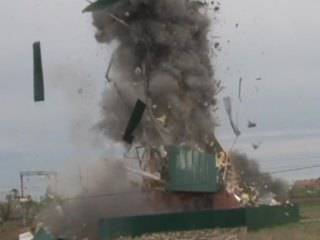 Two caches of improvised explosive devices were found in Dagestan. Employees of the National Anti-Terrorism Committee managed to prevent terrorist attacks on the May holidays.
Over the past two days, caches with improvised explosive devices have been discovered in the village of Novy Agachaul, Karabudakhkentsky district, and a gangster caches on the slope of Tarki-tau mountain on the outskirts of Makhachkala, ITAR-TASS reports.
In the village of New Agachul, in the basement of a private house, an 12-kilogram bomb was found, and on the outskirts of Makhachkala - three improvised explosive devices with striking elements with a total power of more than 5 kilograms in the TNT equivalent.
All explosive devices found were destroyed by explosives by the Dagestan Republican UFSB at the place of detection because of the danger of explosion during transportation.
On April 27, several militants were liquidated in Derbent, where a special operation was conducted.
In the morning of May 5, a special operation took place in Khasavyurt. The members of the Khasavyurt gang were blocked in one of the private houses. In combat, three militants were destroyed. Including 24-year-old Ramazan Labazanov and his wife were killed. Labazanov just two months ago joined the gang. He is checked for involvement in the attempted assassination of a police officer committed in Khasavyurt on May 5.