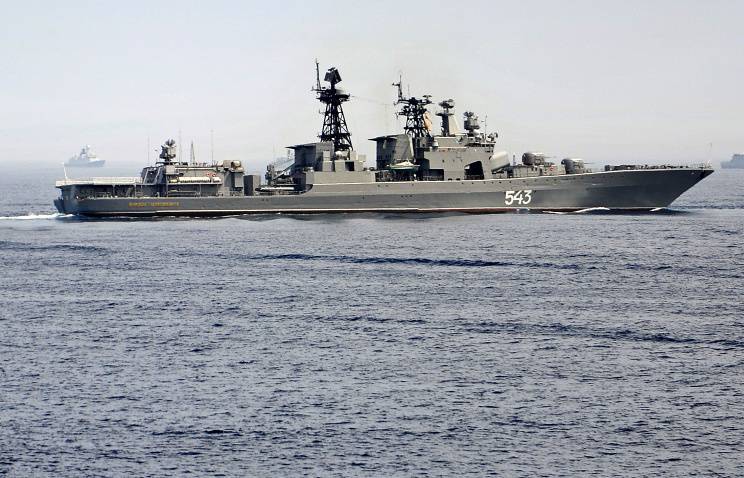 The large anti-submarine ship (BOD) "Marshal Shaposhnikov" arrived in the Gulf of Aden and entered into an anti-piracy shift in the area. This was reported to reporters by an official representative of the Pacific
fleet
(Pacific Fleet) Roman Martov, captain of the first rank.
"At present, the ship is leading a convoy of civilian ships to safe waters in the Red Sea. In the opposite direction, Marshal Shaposhnikov will be escorted by a heavy truck from Spain," said Martov. He recalled that several days earlier in the Arabian Sea, a detachment of ships of the Pacific Fleet replenished supplies of water and fuel, carried out maintenance work and control anti-terrorism exercises.
"A detachment of ships of the Pacific Fleet in the composition of the BPC Marshal Shaposhnikov, the tanker Irkut and the rescue ship Alatau under the leadership of Deputy Commander of the Primorsky Union of disparate forces of Rear Admiral Vladimir Dmitriev have been in combat service in the Pacific Ocean since mid-March," Martov added .
From March 29 to April 3, the Pacific Ocean took part in several episodes of the KOMODO-2014 multinational exercise. Russian sailors, together with colleagues from 16 countries of the Asia-Pacific region, conducted joint maneuvering at sea, helicopter exercises, rendered medical assistance to those who were conditionally affected by natural disasters, and also took part in the elimination of the consequences of a natural disaster. "From 19 to 23 April for the first time in the newest
stories
relations of the Pakistan Navy and the Russian Navy BOD "Marshal Shaposhnikov" went to the port of Karachi. At the end of the visit, joint anti-piracy exercises were held, "the Pacific Fleet representative reminded.
For many years now, the Russian Navy forces have been carrying out the tasks of protecting shipping and combating piracy off the coast of Somalia in the Gulf of Aden. In May 2010, the crew of the Marshal Shaposhnikov, during the first expedition to the Horn of Africa, conducted an unprecedented operation to free the crew of the Russian tanker Moscow University from pirate captivity. In 2013, two cruise ships of the Pacific and Northern fleets were made to the area, 19 convoys were conducted, 105 ships were secured under the flags of 27 countries, an attempt to seize a merchant ship was prevented.