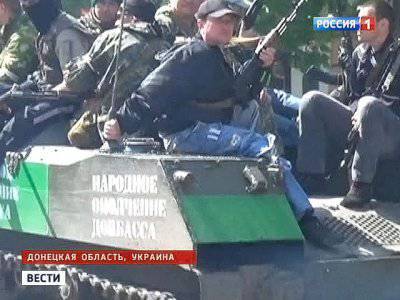 The command of the self-defense forces declared on Sunday that last night during the special operation the resistance forces managed to win back several cities from the government forces. The militia groups reportedly beat the army and the national guard from Slavyansk, Kramatorsk, Druzhkovka and Konstantinovka.
Nurse Julia Izotova was killed by the Ukrainian military. The car in which the girl was, was shot by the National Guard under, people who must protect the civilian population. Three died on the spot, Julia, the nurse herself, died on the way to the hospital from gunshot wounds.
Julia just graduated from medical school, for three months she worked as a nurse. When the confrontation began, she helped the wounded self-defense fighters, after working as a volunteer, she brought food to the militia checkpoints. Aunt Julia says that she was a universal favorite.
As a result of the assault on Kramatorsk, which the security forces tried to conduct the day before, at least ten people died, dozens were injured. They are taken to hospital. The people who tried to block the armored vehicles were also killed; she walked in from Kramatorsk to Slavyansk. The military, whether in panic, or by order, began shooting at unarmed people. According to the mayor of Slavyansk, 10 people died. More than forty injured. Now in the hospital, eyewitnesses tell the details.
But in the end, the punitive operation was not completed. Moreover, the Ukrainian security forces are thrown back. There is still no Ukrainian flag on the SBU building in Kramatorsk, Slavyansk frontier lines are left. Militia forces return to positions at the entrance to the city.
On Sunday, the militia literally squeezed the Ukrainian security forces from the outskirts of Slavyansk. Clashes occurred on several fronts, but the forces that obey Kiev did not get involved in the battle.
Despite the local successes of the militia, Slavyansk is still in the circle of Ukrainian security forces. In the north-west direction, in the evening, an impressive group of special-purpose forces of the Security Service of Ukraine was again formed. At night and in the early morning there will again be an assault.