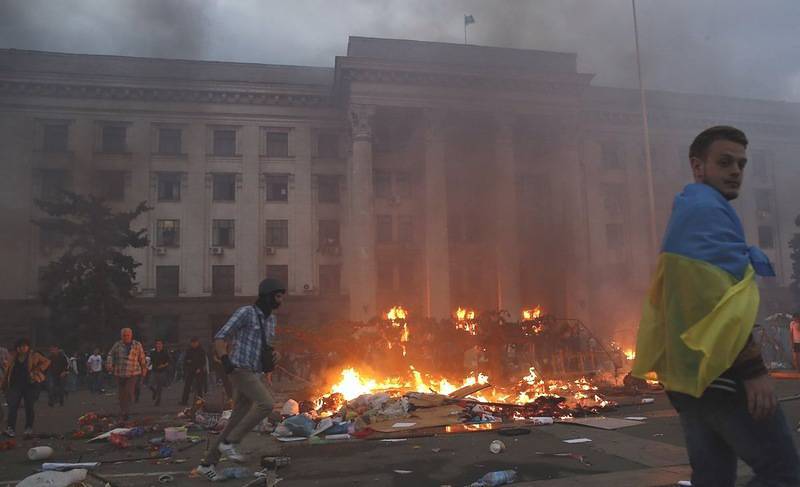 Yes it is. This is a blatant and despicable lie. I had a conversation with my friend who works in the Odessa organs. It still works. Unfortunately, since he was not fired yet (and everyone is coming to this), I had to promise that I would not name his place of work, nor everything else.
All the data that the investigating authorities submitted to the public - a blatant and despicable lie! I do not know how else to call it.
The 46 of those killed by the media are those who burned, choked in smoke, crashed during a fall. These are the ones who are still lucky. Relatives know about them.
There are others. Shot to death. Hammered with clubs and bats. Stabbed and stabbed. Hacked. Some of the corpses have not yet been able to identify and collect. The beasts in human form that burst into the building did not spare anyone. They killed everyone who got in the way. Mocked the bodies. Robbed. And filmed it all. Short excerpts were even shown in
the news
.
The total death toll is still being specified. But I was given a number that is relevant to 19-00 4.05. 121 (one hundred and twenty-one) people and presumably the remains of another 5 (five).
This is where everyone who was reported missing in the news. Or a significant part of them.
How will further investigation, and whether it will be at all - is unknown. The main majority in the investigative bodies are waiting for an early dismissal. First of all, those who have a conscience. In their place will bring others. More accommodating and less principled. Who will put a signature under the conclusion that people engaged in self-immolation, suicide, self-division. Who will interrogate the survivors, accusing them of what the thugs from the PS must answer for.
I am sincerely sorry for all who are still waiting. It is hoped that relatives and friends in the hospital. During the interrogation. Yes, God knows where, if only they were alive.
Killing unarmed people is a crime. Assisting murderers is a crime. This cannot be forgiven.
Mr. Obama, are you satisfied with your students?
**
Photos and videos here:
How Odessaites were killed in the House of Trade Unions - script details ... + 18