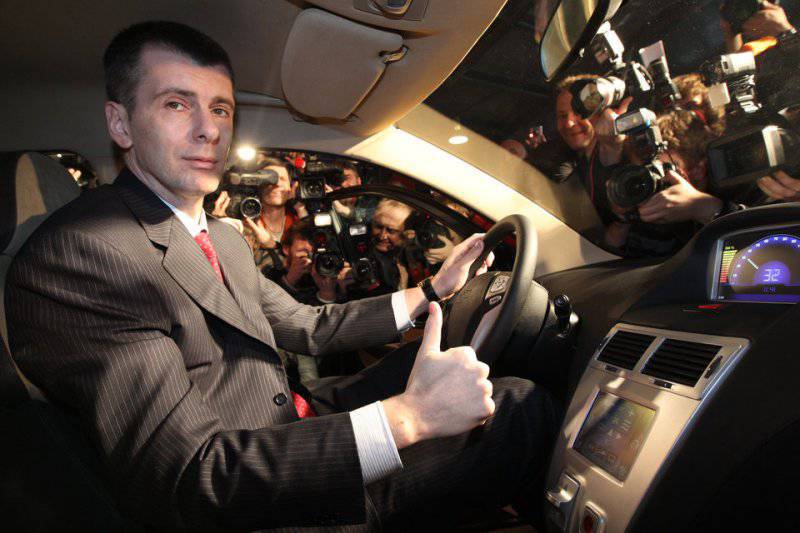 A couple of weeks after Mikhail Prokhorov, in a fit of sudden generosity, presented the state with all the developments as part of his automobile project, it turned out that there was a true background to this step, reports
Reedus. Citizen Journalism Agency
.
According to the Avtovzglyad portal, the debts of Prokhorovsky Yo-Avto LLC can reach two billion rubles, and the network of companies through which the businessman controlled the project was built in such a way as to make it more difficult for real cash flows and the state of assets. In particular, the implementation of the project involved several offshore companies, which had shares in development companies along with ONEXIM.
According to Avtovzglyad, at the moment the arbitration court of St. Petersburg has registered several dozens of lawsuits against the executors of the project, and the amount of the debt that the plaintiffs hope to collect is already about a billion rubles. The total amount of debt may be twice as high, but some of the debt, journalists found out, seems to have been paid off. Those who are not lucky enough to get money, the publication emphasizes, there's nothing to hope for: companies have empty accounts, no assets that can be sold on account of debt, unless the new owner of the project comes to the rescue - the state.
Note that the current situation is not the first time that Mikhail Prokhorov literally "throws" people for money. Enough to remember
history
with the party "Just Cause", which, under the leadership of Prokhorov, announced its intention to participate in the State Duma elections in 2011 and even launched a campaign, however, as it turned out after Prokhorov was removed from the post of party leader, no one in particular paid.
In the situation with the "Right Cause", only a very few technologists could get their rightfully earned money as a result; A similar situation, as we see, was the place to be in his automobile project. It would be time for Mikhail Dmitrievich to look around and remember that he had long been living not in dashing 90's: the year of 2014 was in the yard, and all the "brothers" who were engaged in frank "scammer" got what they deserved for a long time - some sit behind bars, and others lie on the cemeteries.