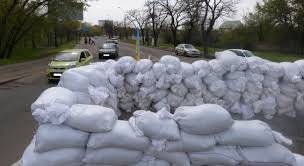 According to the
RIA News"
, two cars with humanitarian aid arrived in Slavyansk. According to the coordinators, they were able to break through to the city, besieged by the Ukrainian security forces.
"Humanitarian aid was collected for two days in the center of Kharkov on Dzerzhinsky Square. We collected half a ton of food and medicine, especially asked for insulin, "said coordinator Yuri Apukhtin.
He also said that a column of 12 vehicles had left Kharkov. For the first time, they were stopped by police officers on the outskirts of the town of Chuguev in the Kharkiv region, saying that everything was closed and it was not safe to go any further. However, the column continued to move.
The next obstacle awaited a convoy in the city of Izum, where there is a significant number of forces involved in the special operation. "There we were stopped by the National Guard. We didn't want to miss it in principle, although we showed everything we're carrying, "said Apukhtin.
As a result of lengthy negotiations, the security forces missed two cars, the rest had to go back. At the same time, they recorded the personal data of all participants and demanded to remove the symbolism of supporters of federalization.
Apukhtin noted that the soldiers asked for their cigarettes. "Although it was clear from their faces that they did not mind taking all the products," he added.