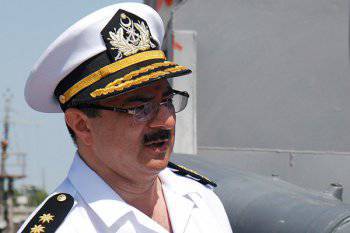 As the
"Lenta.RU"
, in the ranks of the Azerbaijani Navy continues to purge high-ranking military suspected of corruption.
Last week, the arrest of the former commander of the Navy, Vice-Admiral Shahin Sultanov, took place, some of his subordinates were previously detained. Local media are actively discussing the possibility of new disclosures.
Large-scale checks in the Navy began at the end of 2013, after the change of leadership of the Azerbaijani Ministry of Defense. Zakir Hasanov was appointed instead of Safar Abiyev to the post of minister.
Minval.az
notes that the reasons for inspections of steel theft of food in one of the military units.
Checks were conducted at once in several directions. In particular, the expenditure of funds for the maintenance of ships and the use of fuel and lubricants over the past 15 years has been studied. In early April, it was reported that the inspectors of the military prosecutor's office and the Ministry of Finance found many irregularities in the repair and supply of ships. In particular, the allocated funds were used not for their intended purpose, part of the decommissioned ships were issued as combat-capable, in order to receive funds for their maintenance, and for the privatization of some residential premises, false documents were used.
The audit also arrested the commander of the rescue court division Ilkin Askerov (selling property using fake documents), the former head of the navigation department Gasym Guliyev (bribery), the former chief of staff of the Navy Yunus Mamedov (fraud), as well as the head of the rear service Seifi Guseinov and reserve michman Elkhan Gadzhev.
In addition, the former defense minister Safar Abiyev may be among the defendants in the corruption case.