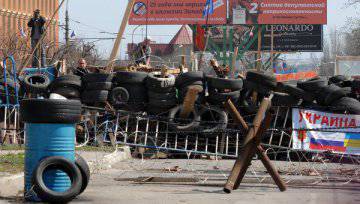 As the
RIA News"
, at a meeting in Lugansk was read a document on the creation of "Lugansk People's Republic".
"The congress of representatives of territorial communities, political parties and public organizations of the Luhansk region proclaims the creation of a sovereign state" Luhansk People's Republic, "reads the document read by the coordinators of the" people's council of the Luhansk region. "
Ukrainian radio
"Freedom"
notes that several hundred people participated in the April 27 rally.
In addition, the event discussed a referendum scheduled for 11 May, which will raise questions about the Luhansk region as an autonomous republic with expanded powers within Ukraine and the Luhansk region within Ukraine without changing the legal legal status.
As noted by the city site Lugansk
0642.com.ua
, the Lugansk militia put forward an ultimatum to the Ukrainian authorities, promising to move to action if their demands are not met.
"Our demands were simple and ordinary - amnesty to all political prisoners, a referendum, the abolition of price increases and tariffs, the Russian language. These elementary requirements are understandable for the government of any civilized country, "the statement says.
According to the militia, the agreements concluded in Geneva, obliged the Ukrainian authorities to announce an amnesty to the participants of the protests and listen to the south-eastern regions of the country.
"If until 14 hours (15.00 Moscow time) on Tuesday, 29 April, all our requirements, supported by the Geneva agreements, are not met, we consider all the authorities that are in Kiev, anti-people and criminal, and proceed to active actions," message.