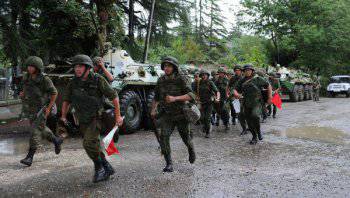 On Thursday, Russian Defense Minister Sergei Shoigu said that Russia would have to respond to events in the south-east of Ukraine, and issued an order providing for the conduct of exercises of the South and Western Military District units in areas bordering on it, reports RIA
"News"
.
According to the ex-chief of the General Staff of the Russian Federation, Army General Yuri Baluyevsky, such a reaction is "justified and legitimate." "When such movements begin near our borders, there must be a response. It is necessary to cool the ardor of their puppeteers, "he said.
Igor Korotchenko, a member of the public council at the Ministry of Defense of the Russian Federation, editor-in-chief of the National Defense magazine, who believes that this is a "cold shower effect" for the Kiev authorities, agrees with him.
In turn, the Ukrainian Foreign Ministry reported that "according to the 16 clause of the Vienna Document on confidence- and security-building measures," Ukraine appealed to the Russian Federation via OSCE communication channels demanding to provide "explanations regarding the objectives and location of the exercises, the date of their completion, and military units involved in them. "
It is also noted that the Russian Federation is obliged to provide information about the exercises "during 48 hours from the moment of receiving the request, that is, before 16.00 Moscow time 26 of April of this year."
RIA "
News
"Notes that on Thursday on the Ukrainian TV channel" Rada "addressed the acting. President Alexander Turchinov. "We demand that the Russian Federation stop interfering in the internal affairs of Ukraine, stop the threat and blackmail and withdraw its troops from the country's eastern borders," he said.
According to the
newsru.com
, the situation with the teachings of the Russian troops commented on US Secretary of Defense Chuck Hagel, who called them "provocative." In his opinion, Moscow's policy "complicates the search for a diplomatic, peaceful solution to the problem," threatening to destabilize an already difficult situation.
It is also worth noting that the edition
"Ukrainian Truth"
published a message from the Deputy of the Verkhovna Rada of Ukraine Petro Poroshenko about three helicopters that violated the airspace of Ukraine.
Earlier, the Secretary of the Security Council of the Russian Federation, Nikolai Patrushev, denied all statements about the excessive concentration of Russian troops on the Ukrainian border. "No, it is not. Our troops are on their territory, it is not prohibited, it is normal. And we do not have there excessive concentration (troops). They accuse us of the fact that our employees and special services are there, but this is not true, "he told RIA
"News"
Wednesday.