Creating a federation "Novorossiya"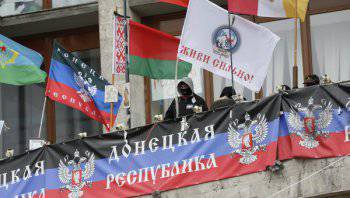 RIA News"
published a statement by the people's governor of Donetsk, Pavel Gubarev, in which he announced the start of preparations for a referendum on the independence of the "Donetsk people's republic".
"The referendum will raise the issue of the adoption by the people of the independence of the" Donetsk People's Republic ", after which we will be able to proceed with the full formation of our government and government, determine the structure of our economy and leave all the money we earn in the republic. The referendum of the "Donetsk People's Republic" is planned to hold 11 May 2014. Now the process of its preparation begins, "Gubarev said on his Facebook page.
"We must make this choice with you as soon as possible, because other regions of the southeast want to follow our example. We all want to unite in a new large federal state NOVOROSSIYA, "added Gubarev.
According to the people's governor, this will enable the republic to act on the international arena as a "full-fledged independent state" and will allow creating its own army.
It is worth noting that 20 on April at a rally in support of federalization in Kharkov sounded similar calls for the proclamation of the so-called Slobozhansky People's Republic. However, as noted
INTERFAX.RU
, according to the prosecutor of the Kharkiv region Vasyl Sinchuk, such statements contradict the current legislation.
"In accordance with Article 2 of the Basic Law, Ukraine is a unitary state, and its territory within the existing border is complete and inviolable. Therefore, calls for violation of the territorial integrity and immunity of Ukraine, in particular, for federalization and the proclamation of the so-called Slobozhansky People's Republic, which are distributed during mass meetings, are contrary to the law and entail criminal liability, "the press service of the Kharkiv region prosecutor's office cites Sinchuk .
The prosecutor urged residents of the Kharkiv region not to succumb to provocations and not to take part in rallies that are held without notifying the authorities and local government.