Ukraine met the vice-president of the United States of America, Joseph Biden. The next visit of a high-ranking American official to Kiev is taking place against the background of the continuing conflict in Ukraine, which was launched not without the help of those who today call themselves Ukrainian authorities. Today, these people are going to assert themselves, including through personal meetings with representatives of the White House.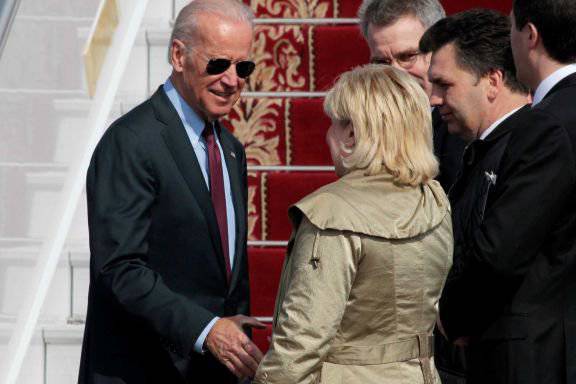 During his visit to the Verkhovna Rada, Joe Biden told parliamentarians that it was a difficult time for Ukraine to cope with corruption. According to the US Deputy Prime Minister, the Ukrainian authorities should start a fight against the "cancer tumor of corruption," Biden is quoted on the website.
"VestiFM"
.
Further, the second person in the US hierarchy said that the peoples and authorities of Ukraine also appeared
historical
a chance to make their country united, and the United States is ready to help Ukraine in this, the television channel reports
Russia Today
. Against the background of recent events on the reunification of the Crimea with Russia, as well as against the background of Kiev's unwillingness to listen and hear the east of the country, against the background of frank attempts by the US to influence Ukraine's policy, these words of Joseph Biden look like a real mockery, with a mockery given for the support of the self-proclaimed authorities of the country
He spoke with Kiev officials Biden about the energy problems of Ukraine. At the same time, the vice-president of the United States assured that the States would surely support Kiev in its desire to confront "degrading threats." Apparently, the purchase of energy by Ukraine at the market price is the "humiliating threat" that Biden has spoken of.
Joseph Biden, with a lot of cynicism about Ukraine:
Imagine what the situation would be like now if you could tell Russia that it can keep its gas for itself.
And the self-proclaimed Kiev authorities began, that there are forces, to imagine such a situation. And what else to do? Biden arrives and flies away, and energy is always needed.