Ukrainian power structures are closely connected with the "Right Sector"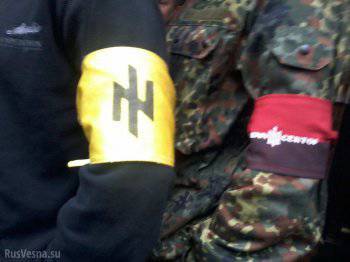 According to the site
"Russian Spring"
, a member of the political council of the Right Sector, Oleg Odnorozhenko, said on the 112 Ukraine TV channel that the backbone of the Ukrainian power structures includes those who, one way or another, are associated with the Right Sector.
Odnorozhenko noted that such fighters, including taking part in ensuring law and order in the territory of eastern Ukraine. "The absolute majority of those organizations that are included in the ranks of the Right Sector, I can speak for the Social-National Assembly, the Patriot of Ukraine, they are in the ranks of Ukrainian structures or the army, or others. And they take care of the order, first of all, in the East, in their homeland. Because the majority of the members of this organization are from the East. Almost the entire leadership of the organization comes from Kharkov, Donetsk or the Crimea, "he said.
However, as noted
"Russian Spring"
These words can be a clear exaggeration, along with the fact that most of the Right Sector representatives come from the east of Ukraine, as most of the nationalists detained during the clashes were registered in the western and central regions of the country.