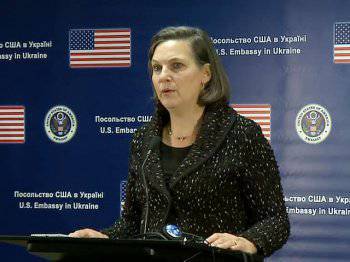 According to the news agency
"Vesti"
, Victoria Nuland, Assistant Secretary of State for European and Eurasian Affairs, had to admit that after the collapse of the USSR, Washington spent 5 billion dollars on "supporting the aspirations of the Ukrainian people for a stronger, democratic government".
"The US has invested about 5 billions of dollars in Ukraine since 1991, since it became an independent state again after the collapse of the Soviet Union. This money was spent on supporting the aspirations of the Ukrainian people who want to have a strong, democratic government that represents their interests, "said the politician on the American television channel CNN.
It is worth noting that earlier Nuland has already spoken about the financial support of the "democratic" processes on the territory of Ukraine by the American authorities, but later she refused from her words.
Also, a representative of the US State Department commented on recent events, saying that the White House "did not spend money to support the Maidan." According to her, it was a "spontaneous movement."
In addition, Nuland noted that one should not compare the events in Kiev with what is happening in the east of Ukraine. "Everything that is held by the protesters in Kiev is held legally, with the consent of the government, Rada or rented from the owners," she said.
According to Nuland, the Kiev authorities adhere to the Geneva agreement. In particular, she noted that a draft broad amnesty had been submitted to the Verkhovna Rada.
It is worth recalling that last week the representatives of Ukraine, the Russian Federation, the United States and the EU signed a document that calls on the participants in the Ukrainian conflict to refrain from extremism, provocation and violence, disarm illegal formations and free illegally occupied buildings, and begin a dialogue on constitutional reform. Later, the representatives of Moscow said that they were disappointed by the US assessments during this meeting. According to representatives of the Russian Foreign Ministry, "the American side is trying hard to whitewash the actions of the current Kiev authorities, who have embarked on a violent suppression of protest speeches of the population of the south-eastern regions, expressing legitimate indignation at attacking their rights."