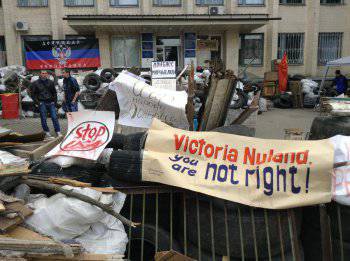 According to the
ITAR-TASS
, supporters of the federalization of Ukraine seized the building of the police department of the Ukrainian city of Kramatorsk. In addition, there is evidence that the activists also managed to occupy the building of the Ukrainian Security Service.
As noted by
RIA News"
, at the time of the seizure in the building of the SBU, there was only one person on duty who did not hinder the activists who hoisted the flag of the Donetsk Republic on the gate.
It should be recalled that 22 of February of this year, the Ukrainian Verkhovna Rada ousted President Viktor Yanukovych from power, changing the constitution and calling the elections for May 25.
From the beginning of March, rallies in support of federalization began in Donetsk, Lugansk and Kharkov. Unrest began after the decision of the new authorities of Ukraine to repeal the law, which gave the Russian language a special status in the eastern regions of the country, as well as to appoint new governors.
The main requirement of the participants of the action is to hold referendums on the status of their regions.