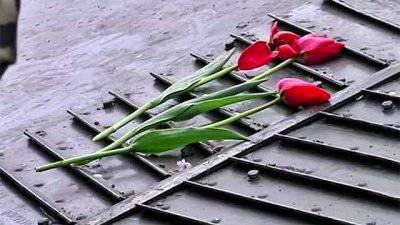 It is said that the wheel
stories
has such a feature - to repeat already past events. Through 50, 100, 1000 years.
Today, when I saw the Vesti report, I immediately remembered the newsreel footage. Similar. The same armored vehicles on the streets of Ukrainian cities, flags over cities without an eagle with a swastika or a trident. Joyful faces of people throwing flowers on armor.
And here are the frames of today's reports. Difference? Yes, fighting vehicles are not the same. Flags ... well, not a single flag, but a tricolor. People ... Well, people are dressed differently. But the joy is the same, genuine and sincere.
Between the reports exactly 70 years. Almost a month a month. Coincidence? Maybe so. Maybe it did.
I admit honestly, I was not so happy about the news about the events in Crimea. I was just sure that the enemy will not pass there. The fleet is there, the troops are there, all in Sevastopol. And I was absolutely sure that the country's leadership would not abandon its arbitrariness on Bandera's arbitrariness. Historically, half-numbered, native.
Donbass is different.
Say what you like, do not say anything here, this is another country. Let it be inhabited by half brothers in language, homeland and blood, but different. And I'm still very worried about the lives of many of my friends and acquaintances "on the other side." There is from what.
I understand that we need very weighty reasons for our soldiers to step in there, under the bullets of Bandera scum. I admit, I would not really like that. But I also do not want my friends to die for their freedom of speech, speech and thought.
Therefore, I was just overwhelmed with emotions, when I saw with my own eyes in the report, and then I was also confirmed by the guys from Ukraine that yes, the crews, along with the equipment, went to their side. So, indeed, "Ukraine has not yet died."
Here it is not a matter of loyalty to the state. And not even in loyalty to the oath. Here it is different. Here we are talking about civil conscience and spiritual responsibility. The fact that shooting at their own has always been considered a disgrace and betrayal.
"Zapadentsy" Easterners are not their own. This is an indisputable fact. But I know that there are (so far) many who hesitate, who are not sure. And the fact that many began to think, encouraging.
It's time for action. Resolute and frank. I am sure that those guys in Kramatorsk and Slavyansk will not be the first and the last in a series of people who decided not to shoot at their own people. I am sure that there will be more and more of them, day after day, night after night. That is how it should be.
How did the spring 1944 in Ukraine differ from the spring 2014 of the year? Probably, to many, and almost nothing. Flowers on armored cars, joy of hope, confidence that our cause is just, and we will win. I hope it will be that way.