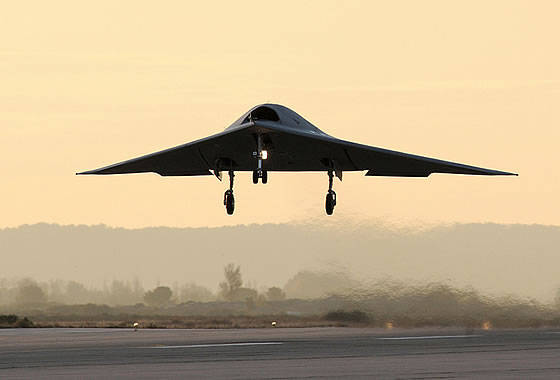 The company Dassault Aviation (Dassault Aviation) 12 April announced the launch of the first flight in a single unit of the attack unmanned aerial vehicle "Neuron" (Neuron) with a fighter "Rafale" and a jet aircraft "Falcon-7X".
The report "Dassau Aviation" notes that the flight of the drone drone in a single formation with the manned aircraft was performed for the first time in the world. The whole operation, carried out on March 20 over the Mediterranean, lasted 1 h and 50 min.
Chief Executive Officer of Dassault Aviation, Eric Trappier, stressed that the joint flight clearly demonstrated the company's achievements in the field of modern technologies.
The organization of the flight required careful preparation in order to determine the waiting point, join the group and implement joint maneuvers in a confined space, taking into account the aerodynamic characteristics of machines of various types. Additional difficulties were caused by electromagnetic interference that prevents communication between the UAV and the ground control station.
In fact, the "Neuron" UAV in the confined space accompanied the 4 aircraft: the already-named "Rafale" and "Falcon-7X", as well as two aircraft with photographic equipment.
The European Neuron UAV program was initiated by France in 2003 and supported by Italy, Sweden, Spain, Greece and Switzerland. The objectives of the program are to create a full-scale demonstrator of the impact UAV technology to test the critical technologies of promising combat aircraft, to work out an innovative cooperation model that optimizes the use of the know-how of participating companies under the leadership of one main contractor. In the course of the project, it is planned to evaluate the flight control technology, stealth, the possibility of launching real air-to-ground ammunition from the internal UAV compartment and its integration into the C4I system.
UAV design began after receiving initial funding in the amount of 406 million euros (562 million dollars) in February 2006. The manufacture of the fuselage began in the 2008 year, and the UAV rollout took place on January 19 2012. The first flight demonstrator made 1 December 2012 of the year. Since then, the UAV has performed several dozen test flights.
In addition to Dassault Aviation, which is the main contractor of the project, the Swedish company Saab, the Italian Alenia Aermacchi, the Swiss Ruag, the Spanish EDC-CASA and the Greek Hellenic Aerospace Industry (HAI) participate in the program.
The maximum take-off weight of the Neuron UAV is about 7 t, own weight - 5 t, length - 9,2 m, wing span - 12,5 m. Apparatus equipped with the power unit "Rolls-Royce" / "Turbomeca" "Adur" Mk.951, It develops a maximum speed of 0,8M and can be in the air up to 3 hours. The armament of the UAVs in the future will be made up of Mk-82, CBU-12 and JDAM bombs.