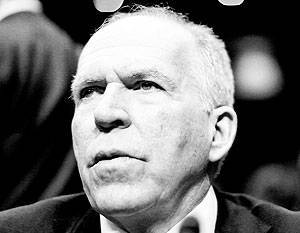 A high-ranking source in the Russian Security Council told the VIEW newspaper that around 20 American citizens, presumably employees of the private military company Blackwater, disappeared near Donetsk. According to the source, this circumstance was the reason for the urgent visit of the CIA Director John Brennan to Kiev.
Traces of Americans still have not found, and the Kiev authorities no able to help the head of the CIA, the source of the newspaper LOOK.
Earlier reports appeared in the media, later confirmed by sources close to the Ukrainian security forces, that the United States CIA Director John Brennan came to Kiev on Saturday.
At first, the US authorities could not give a clear answer to the question of the Russian side whether such a visit took place, as Russian Foreign Minister Sergey Lavrov stated. However, on Monday, Washington confirmed the visit of the head of the CIA, John Brennan, to Kiev.
Ukrainian President Viktor Yanukovych, who was removed from power, said on Sunday that the Ukrainian security forces decided on a special operation in the east of the country just after meeting with Brennan.
The State Duma believes that the United States is probably concerned about the instability of the new authorities in Kiev and of Ukraine as a whole, in this context the visit of the head of the CIA to Kiev should be considered.
The fact that employees of the private military company Greystone Limited (a structure related to Academi, the former Blackwater), can become involved in suppressing protest sentiments in the east of Ukraine, 25 March has become known. Later, it was indeed reported that three combat units were deployed to the Donetsk and Lugansk regions to suppress popular uprisings, including Blackwater mercenaries in the form of the special forces detachment of Ukraine "Sokol".
31 March The Russian Foreign Ministry criticized the decision of the Kiev authorities to attract employees of the foreign private military company Greystone Limited.
Greystone Limited is registered in Barbados. Included in the structure of the company Academi, which until 2009, was known as Blackwater. With this name in 2004, he was linked with a great scandal because of the shooting of a peaceful demonstration by employees in Iraq.