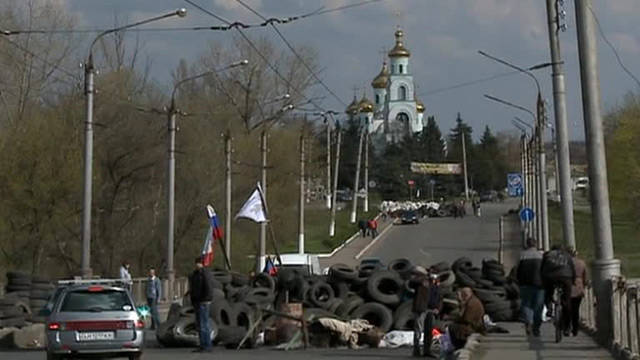 A column of armored vehicles of Kiev-controlled military units entered Slavyansk. The convoy consists of 20 armored personnel carriers, also in the convoy trucks and buses. The city entered about 500 military.
On the streets and entrances to Slavyansk, local residents are strengthening the barricades, and the militia fighters are preparing for a possible bombardment from the dominant heights, ITAR-TASS reported. Militiamen seriously fear that artillery may take the dominant height - Mount Karachun, from where it will begin shelling the city center.
"Troops surrounded the city. In almost all directions, armored vehicles are concentrated,
Tanks
, Armored personnel carrier. Getting ready. If they go, they will have to stop, "said the commander of the self-defense battalion, the acting head of Slavyansk, Vyacheslav Ponomarev.
Roads and main entrances to the city remain free, under the control of self-defense forces of the Donetsk People's Republic.
In the morning of April 15, dismissed by the decision of the Territorial community, the mayor of Slavyansk Nelly Shtepa made a statement that chaos reigns in the city, marauders are rampant on the streets.
The acting mayor of Slavyansk Ponomarev believes that Shtepa deliberately spreads misinformation and betrays her own people - the day before she fled the city.
He stressed that there is a complete order in the city, armed militia officers are present on the streets, and riots and looting facts were not recorded from the very beginning of active speeches of supporters of federalization.
Polyclinics, a hospital, and most shops operate in the city according to the usual schedule. The only exceptions are schools and kindergartens. They are closed.
Residents of Slavyansk quietly move around the city, public transport continues to work, restrictions on entry to the center, to the administration, apply only to private cars.
The people's militia continues to strengthen the building of the city administration, part of the stairs and openings are blocked. Representatives of the Militia of Donbass do not exclude that in the evening the assault could begin. Another danger is provocations and attacks by militant groups of the Right Sector, which could penetrate the city.