At the 14 th international defense exhibition DSA-2014 (14th Defense Services Asia Exhibition and Conference) held in the capital of Malaysia, Kuala Lumpur, China Shipbuilding Trading Corporation (CSTC), the Chinese foreign trade association, presented the C28A project ordered by Algeria for the first time.
Algeria entered into a contract with CSTC to build three C28A corvettes in March 2012. It is reported that the construction of corvettes for the Algerian Navy is carried out from 2013 year in Shanghai at the shipyard Hudong Shipyard of the shipbuilding association Hudong-Zhonghua Shipbuilding Group (part of the China Shipbuilding State Corporation - CSSC). The project was developed by the CSN 1 Design Institute. Corvettes will be fairly large ships with a total displacement of 2880 tons and a hull length of 120 meters that have a diesel power plant with MTU engines. The first ship must be delivered to Algeria in 38 months after signing the contract.
According shown in DSA-2014 model Corvette project S28A is armed eight anti-ship missiles C-802, one vosmizaryadnuyu launcher FM-90N (HHQ-7) SAM short range one 76-mm universal gun mount H / PJ-26, two 30-mm seven-barreled anti-aircraft artillery complexes such as 730, two 324-mm three-tube torpedo tubes and provides for the basing of an AgustaWestland Super Lynx helicopter in the hangar. Corvette's electronic armament is represented by a mixture of Chinese and Western systems, including the Thales Nederland Smart-S Mk2 3D general detection radar, the Racal RM 1290 navigation radar, the Thales communications complex, and the Chinese fire control radar and ASBU developed by the Chinese Systems Engineering Research Institute.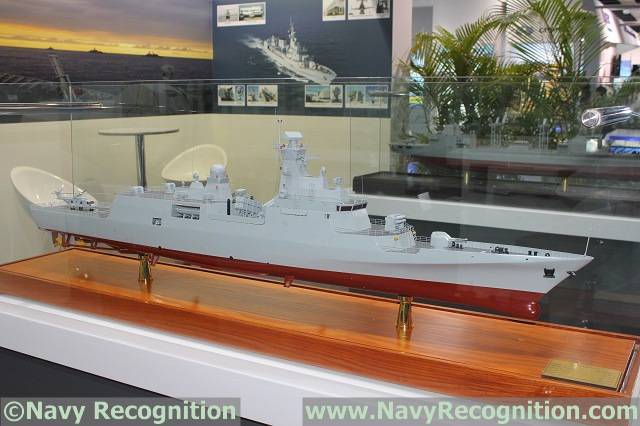 The model of the C28A corvette being built for Algeria in the People's Republic of China at the DSA-2014 exhibition. Kuala Lumpur, 14.04.2014 (c) www.navyrecognition.com

The model of the C28A corvette being built for Algeria in the People's Republic of China at the DSA-2014 exhibition. Kuala Lumpur, 14.04.2014 (c) www.navyrecognition.com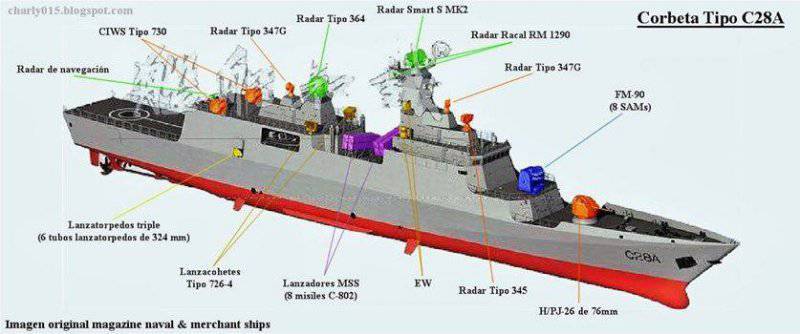 The main systems under construction for Algeria in the People's Republic of China of the corvette of the project С28А (с) charly015.blogspot.com