10 on April 2014 at Yaroslavl Shipbuilding Plant OJSC (managing company VP FINSUDPROM) in Yaroslavl held a solemn launching operation of a high-speed amphibious assault boat of the air lieutenant Lieutenant Rimsky-Korsakov (702 serial number) - the second of three At this enterprise of the boats of the project 21820 (code "Dugong").
The contract for the construction of a series of three boats of this project was signed by OAO Yaroslavsky Shipbuilding Plant and the Ministry of Defense of Russia 23 June 2011. To commemorate the 200 anniversary of the Patriotic War 1812, it was decided to perpetuate the memory of the heroes of this war in the names of a series of landing craft.
The lead boat under this contract, Denis Davydov (serial number 701), was laid in Yaroslavl on January 18, 2012, was launched on July 26, 2013, and since October, 2013, has been tested in the Baltic Sea. The second boat, Lieutenant Rimsky-Korsakov, was laid on 21 on June 2012 of the year, and the third on the Michan Lermontov (serial number 703) was laid on 18 on January 2013. All three boats are supposed to be handed over to the Russian Navy in 2014.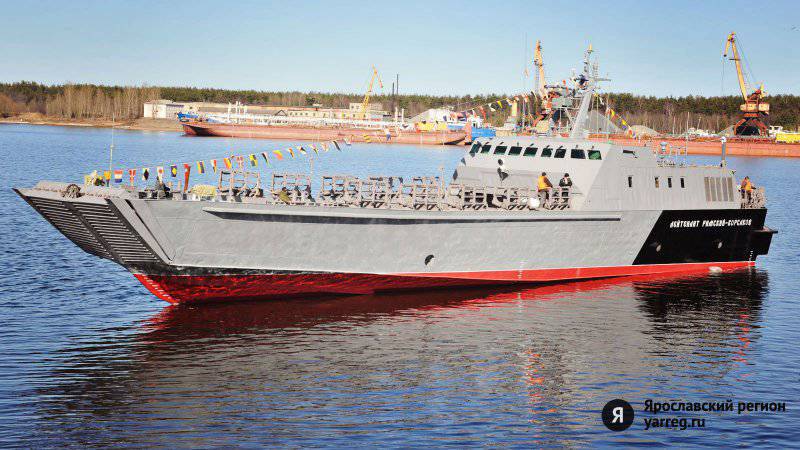 Launched at the Yaroslavsky Shipbuilding Plant OJSC, a high-speed assault boat in the Lt. Rimsky-Korsakov air-cavern of the 21820 project (Dugong cipher). Yaroslavl, 10.04.2014 (c) Konstantin Kancidal / yarreg.ru