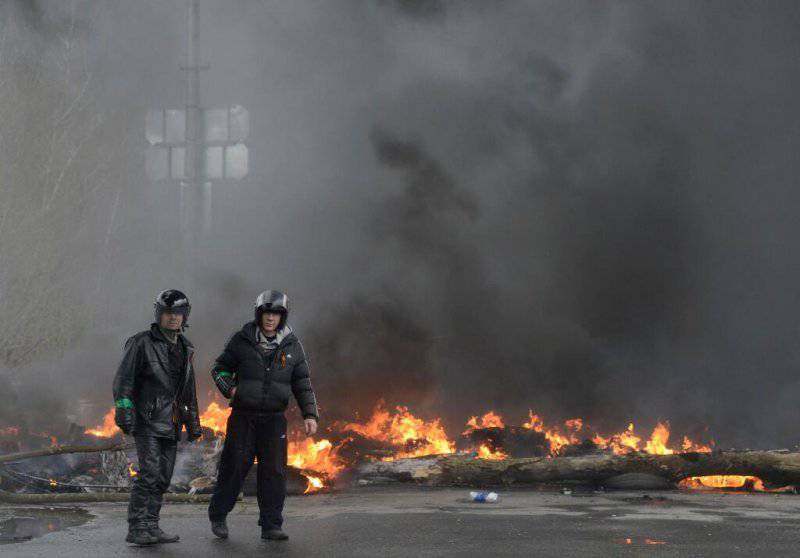 The mayor of Slavyansk Nelli Shtepa fled from the city. This was announced by one of the leaders of supporters of the federalization of Ukraine in Slavyansk Vyacheslav Ponomarev.
"I asked her to come, she said I would be there in half an hour. I called her in an hour, and she was already in Artyomovsk," said Ponomarev.
According to him, Shtepa agreed with the Right Sector that the activists penetrated the captured building of the executive committee in civilian clothes.
In addition, according to UNIAN, Ponomarev said that he had taken over the leadership of the city and called on residents to defend the buildings.
It is worth noting that on the eve Shtepa said that she agrees with the actions of the pro-Russian protesters who occupied the administrative building in Slavyansk.
According to the press service of the Donetsk Regional State Administration, during the anti-terrorist operation against the supporters of federalization in Slavyansk and Slavyansk district, one person was killed and nine were injured.
According to the health department of the regional state administration, five people received gunshot wounds during a military operation in Slavyansk. "In addition, an armed confrontation is continuing on the Rostov-Kharkov highway between the cities of Slavyansk and Artyomovsk, during which, as of 12: 30, one person died and four were injured," the press service notes.
There is no information about which of the opposing sides the victims belong to.
The movement of ambulance brigades in Slavyansk is now limited, however, physicians by all available means provide emergency care and hospitalization of the injured, reports RIA "
News
".
As reported, this morning Arsen Avakov announced the beginning of a military operation in Slavyansk. "The anti-terrorist operation began in Slavyansk. It is headed by the ATC of the Security Service of Ukraine. The forces from all the power units of the country are attracted," the minister wrote on his Facebook page. He later said that a SBU officer had died during a military operation. "Slavyansk. Killed and wounded on both sides. On our side - an officer of the Security Service of Ukraine. The head of the ATC of the Security Service of Ukraine and four others were wounded. From the part of the separatists an unknown number. Separatists began to hide behind a human shield from the civilian population. There is a regrouping of forces," Avakov informed.