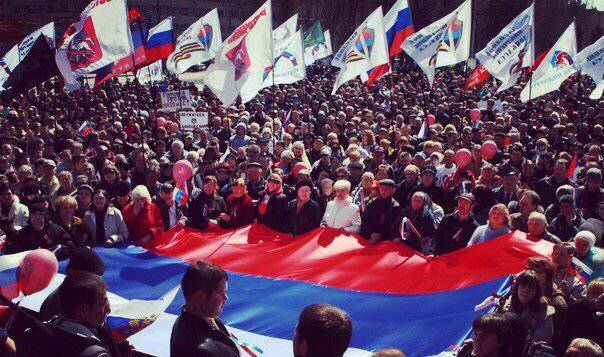 That is why we support the economy of Ukraine, despite the seizure of power by gangsters, the expert emphasizes
There is one aspect in the current Russian-Ukrainian relations in which our position is literally "worse than the governor's". This is the economy. The problem of this area is that it is very specific and addressable. If political battles on everyday everyday life are reflected only by glare, neponyatki with unemployment and social services, with trade of all scales and money in general - this is something that greatly affects our everyday life.
But in the end there is an amusing discrepancy: we are helping not only to a friendly state, but also, in parallel, unfriendly to its invaders, in fact thereby abandoning the initially declared position of not recognizing the prevailing junta. At the same time, Bandera's "thank you" traditionally either pinch or pronounce with such intonation that it would be better to be silent ...
Basically, this, although not only, and President Vladimir Putin spoke in his residence with the government. According to the official presidential website, the meeting was attended by Prime Minister Dmitry Medvedev and one of his deputies Dmitry Rogozin, as well as Assistant Head of State Andrei Belousov, Foreign Minister Sergey Lavrov, Minister of Industry and Trade Denis Manturov, Energy Minister Alexander Novak, Finance Minister Anton Siluanov and, of course, the head of the Ministry of Economic Development Alexei Ulyukayev. A special guest is Deputy Chairman of the Board of OAO Gazprom Vitaly Markelov. The presence of the Gazprom top manager was due to the very narrowly posed question - energy and, specifically, gas as the engine thereof.
And again, because the same awkward
история
when we revenge specifically to the "collective Yarosh", and we fall for those who are now in Donetsk, Kharkov, Lugansk, Nikolaev, and then with all the stops defending their right to the pro-Russian vector. Leave them without gas, without light? Since we ourselves are not in a hurry to accept them into Russia. With torches, you will not live now, but the West will not worry about such trifles now ...
"The situation is certainly strange, to put it mildly," said Vladimir Putin's meeting with the government, "because, as you know, our partners in Europe recognize the legitimacy of today's Kiev authorities, but they do nothing to support Ukraine," one dollar, not a single euro. The Russian Federation does not recognize the legitimacy of the authorities in Kiev, but continues to provide economic support and subsidizes the Ukrainian economy with hundreds of millions and billions of dollars so far. This situation, of course, cannot continue indefinitely, but once again I want to note that we must act very carefully, without destroying the little that is left. "
Anatoly Wasserman, a well-known journalist and political scientist, commented on this key phrase of the Russian chapter in an interview with the KM.RU columnist:
- As I understand it, this is a completely natural alignment. Our geopolitical competitors are ready to support anyone under two conditions: firstly, this support of them should cause us significant damage, and, secondly, it will not require significant expenses from them. In this case, as it is easy to see, both conditions converge. In Ukraine, the efforts of Washington to bring to power people who are ready to give the West at least the whole of Ukraine entirely, just to thereby foul the Russian Federation. But, of course, no one will pay these fanatics until they have worked off the 5 billions of dollars already invested in them.
One may say that this is the cynicism of the highest standard, but the Secretary of the London Union of Bookbinders Thomas Joseph Dunning once said that capital is ready for anything for profit, namely, for the sake of profit in 300% he is capital ready to go a crime that otherwise would not have risked going even under the fear of the gallows. Later, this catch phrase of Dunning was quoted in his Capital by Karl Marx, and indeed, many authors quoted and quoted it to this day. And I believe that in the West today it is even much more famous than here.
If we conditionally proceed from the rate of profit indicated by Dunning, the Americans should expect to receive at least 20 billion dollars from the looting of Ukraine before they consider that their investments have paid off. Well, to fear the gallows from a crime for the sake of such a profit went, of course, not to the Americans themselves, but precisely to the very same gangs who brought them to power. And that is why Bandera is now ready to literally kill those who oppose them.
As for the Russian Federation, its position on the Ukrainian issue is determined primarily by the fact that five sixths of the population of Ukraine are native speakers of the Russian language and use it in everyday communication. That is, on such a formal basis, they are Russians. But the Russians do not abandon theirs, and therefore the Russian Federation is quite logical and consistently continues to support the economy of Ukraine, even realizing that under the present objective conditions the bandits who seized power inevitably have their share of this help. But Moscow is ready to put up with this, as long as in Ukraine it is still not so bad that the overthrow of the junta suddenly becomes a vital necessity.
In general, today I can only hope that the obvious lack of economic pressure from Russia will be compensated by some other, no longer economic, but perhaps humanitarian means. In particular, the constant task of the pro-Russian non-governmental media in Ukraine could be a constant reminder to the Russian majority of citizens of this republic that they are Russians, that power is seized by outspoken gangsters and that they can be thrown off only by combining and correcting their actions - as in the well-known parable of broom. Alone, Russian cities in the South-East will be captured by Bandera and will inevitably become anti-Russian. But if you unite together - nothing will come of the advocates of fascism.