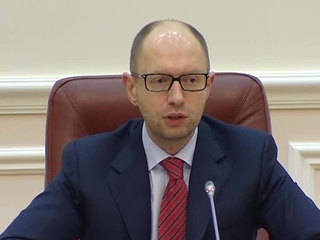 Prime Minister of Ukraine Arseniy Yatsenyuk called for the adoption by the Verkhovna Rada of a law on a local referendum, Interfax reports. "Parliament should adopt a law on a local referendum," Yatsenyuk said at a meeting with the administrative and business asset of the Donetsk region on Friday, explaining that the appropriate changes should be made to the law on the all-Ukrainian referendum.
Donetsk Mayor Alexander Lukianchenko proposed to hold an all-Ukrainian referendum on the new Constitution of the country on the day of the extraordinary presidential election - 25 in May of this year. He stated this today at a meeting of the leadership of the eastern regions, which is held here under the leadership of Prime Minister Arseniy Yatsenyuk appointed by the Verkhovna Rada.
"I think that in order to calm the population, solve all problems and to avoid boycotting the elections, which will be 25 in May, it is necessary to conduct a poll or a referendum on changing the constitution of our country together with the elections," he said, addressing to Yatsenyuk. In his opinion, the same commissions that are created to organize elections can be involved in conducting a referendum.
Earlier, Lukyanchenko stated that the draft should include a clause that would determine the status of the Russian language in Ukraine.