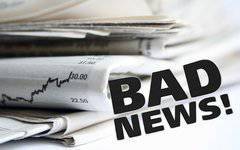 The following are very important, fact-based "serious
news
, About which the media, on the basis of their responsibility, should report. However, a profit-oriented press usually avoids them.
1. The wealth of the United States has reached 34 trillions of dollars since the recession began. 93% of you got almost nothing from this.
In recalculation, this means about 100 000 dollars for every American. However, those people who already own the majority of the shares, took almost everything for themselves. For them, the average amount of funds received amounted to much more than a million dollars - without taxes, if they do not transfer their assets into cash.
2. Eight wealthy Americans earned more than 3,6 a million minimum-wage Americans.
A recent report said that not one of the full-time workers in the United States who received the minimum wage could afford to rent a one-bedroom apartment at a fair market price. There are 3,6 million of such workers, and their total (total) earnings in 2013 were less than the income on the stock market of the same year, just eight Americans, who receive an incomparably greater share of society from society. Here are their names: four members of the Waltons family (Waltons), two members of the Cochs family, Bill Gates and Warren Buffet.
3. News sources express the opinion of the entire 5% of the population.
An exhilarating impression would be made by a sincere editorial: "We really appreciate 5% or 7% of our readers, who make big money and believe that their growing wealth helps everyone else."
Instead, business-oriented media appear to be generally unable to distinguish between 5% and the rest of society. The Wall Street Journal newspaper exclaims: "Middle-class Americans today have more purchasing power than ever before," and then continues his slurred speech: "What kind of recession? ... The economy has recovered from recession, unemployment is decreasing."
The Chicago Tribune newspaper, which may have even more lost contact with its less privileged readers, asks them: "What's so terrible about infusing so much money into the presidential campaign?"
4. The TV news for American viewers is simplified to the limit.
A study conducted in 2009 by the European Journal of Communication has compared the United States with Denmark, Finland and the United Kingdom in terms of awareness and reporting of domestic news compared to international news, as well as relatively "serious" news (politics, government, , technology) compared to "soft" information (celebrities, articles intended for a wide audience, sports and entertainment). Results:
Americans are especially poorly informed in international political matters.
American respondents showed very poor results in respect of serious domestic news.
American television reports significantly less international news than Finnish, Danish and British television.
American television news broadcasts also contain significantly less serious information than on Finnish or Danish television.
In this study, surprisingly, it is noted that "the American newspapers we selected were more focused on serious news than printed publications in European countries." The trouble is that Americans less and less read newspapers.
5. Media leaders — from white males of the birth boom generation — owe trillions of dollars to society.
All this hype about "a man who made himself" (self-made man) is pure fantasy. At the beginning of 1970, we, privileged white men, graduated from higher education institutions, and management and finance jobs were waiting for us, and technology offered us new ways of making money, taxes were ready to decline, and in our imagination we already saw the bonuses and gains of our capital.
When we were students, the Department of Defense prepared the Internet for Microsoft and Apple, the National Science Foundation (National Science Foundation) provided funds to the initiative group to implement the Digital Library Initiative, whose results were adopted as the basis of the model for Google, and the National Institute of Health conducted preliminary testing for companies such as Merck and Pfizer. Government research laboratories and state universities have prepared thousands of chemists, physicists, chip developers, programmers, engineers, production line specialists, market analysts, laboratory technicians, repairmen, and so on and so forth.
And on our own, we were only able to form a scornful attitude — something that Steve Jobs said: "We never hesitate to steal great ideas."
6. Funding for schools and pensions is reduced, as corporations stop paying taxes.
Three separate studies have shown that corporations today pay less than half of the required state taxes, which are the basis for financing school education and an important component of pension financing. Recently, a report titled The Disappearing Corporate Tax Base (The Disappearing Corporate Tax Base) noted that the percentage of corporate income paid as a state income tax decreased from 7% in 1980 to about 3% at present.
7. Located in the United States, companies pay most of their taxes abroad.
Citigroup in 2011-2013 has received 42% of its revenues in North America (mainly in the USA), and its profits amounted to 32 billion dollars. Moreover, all these three years she received the right to reduce the income tax.
Pfizer had 2011% profit in 2013-40 and almost half of its assets in the United States, but claimed a loss of almost 10 billion dollars in the United States, as well as receiving nearly 50 billion in profits abroad.
In 2013, Exxon had 43% management, 36% sales, 40% long-term assets and 70% - 90% of its operating oil and gas wells in the United States, but it paid only 2% of its total income in the form of income tax in The United States, while most of the money paid can be called a "theoretical" tax.
8. 30 waiters in restaurants have not been raising salaries for years.
An assessment by Michelle Chen showed that the minimum wage for those who get tips at work from 1980-s is about 2 dollars per hour. She also noted that about 40% of these people are colored, and about two thirds of them are women.