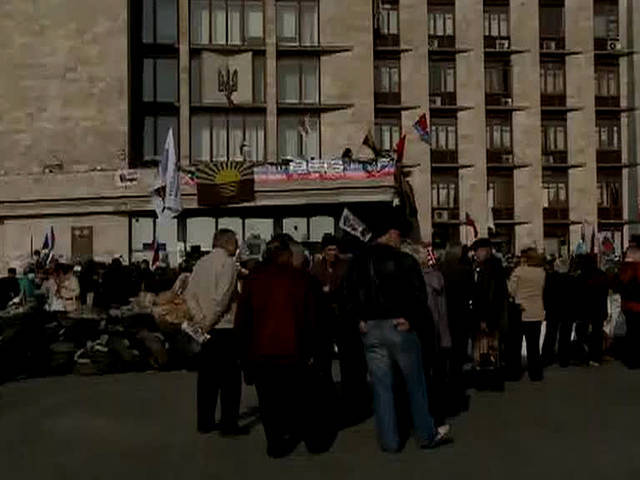 Refugees from the eastern regions of Ukraine continue to arrive in Crimea. They ask for Russian citizenship. Someone stops with relatives or friends. There are temporary camps in the Crimea.
It is unusual for him to call himself a refugee. But Mikhail Koreiko's family really fled from the Donetsk region. They believe that it is not safe to stay in Mariupol, which is very close to Donetsk, the epicenter of the protests of the east.
Official Kiev declared rallies in support of the referendum on the issue of federalization outlawed. All the protesters in the east, says Michael, are considered separatists in the capital to be detained. According to him, the city was flooded with supporters of the authorities, who intimidate local residents. "In the daytime silence, but when it starts to get dark, they begin to creep out, beat people," says Mikhail Koreiko. "The young man carried the flag of Russia under his jacket. He was beaten for it. One was beaten for explaining the way in Russian. And when we mobilization began in the city, I was afraid for my family and children. And we decided to come to Crimea for help. "
First, the head of the family arrived in the Crimea - "for reconnaissance." In Sevastopol, it was calm and safe. Without hesitation, Michael drew up a plan to transport his wife and children. "In fear of what is happening at the moment, we fled with our wife and children to the Crimea," he says. "The easiest thing was to get to Sevastopol, as a bus passes through our city."
Now refugees have temporarily settled in one of the local charity centers. They sleep in bunk beds, they cook in the kitchen in the hallway. But for that they are grateful. "It was terrible to go," admits one of the refugees, Lyubov Kirpichenko. "But there was a chance that they would help us here."
Igor Ratnikov, the head of a public organization, explained that he could not accommodate refugees in a charity center. "I am a father myself, we took them here humanly," he said. "Hospitality has always been a hallmark of Sevastopol."
In Ukraine, the Koreiko family had an apartment, a job and close people. From telephone conversations with those who stayed on the mainland, they know that the situation is heating up, and that the Kiev authorities don't want to hear the residents of Donbass.
Who came to Crimea are collecting documents for refugee status, then to issue Russian passports. They understand that this will not happen soon, but they hope for the help of the administration, the migration service and a special program for people like them who are displaced.
If the situation in the east of Ukraine deteriorates further, the number of refugees will obviously increase. As for this family from Mariupol, there is no way back for it, because the new Ukrainian authorities consider such people traitors.