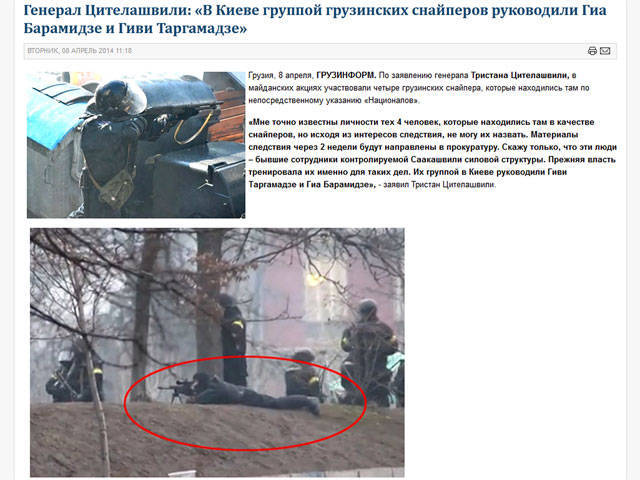 The General of the Georgian Army, the former commander of the Avaza battalion Tristan Tsitelashvili, made a sensational statement. He claims that the snipers who shot at people on the Kiev Maidan were former subordinates of the ex-president of Georgia Mikhail Saakashvili.
This is reported by the agency "Gruzinform" and the TV channel Lifenews. General Tsitelashvili claims that four Georgian snipers participated in the actions, who were there on the direct instructions of the "Nationals".
"I know the personalities of those four people who were there as snipers. But, proceeding from the interests of the investigation, I cannot name them. In two weeks the materials of the investigation will be sent to the prosecutor's office. I can only say that these people are former employees of the Saakashvili-controlled force structures. The former government trained them specifically for such cases. Their group in Kiev was led by Givi Targamadze and Gia Baramidze, "said Tristan Tsitelashvili.
Assumptions that for the sake of provocation snipers could have been specially employed not without the participation of opposition leaders of euromaidan at that time appeared before. This, in particular, was discussed in the telephone conversation of Estonian Foreign Minister Urmas Paet and Catherine Ashton, which had leaked to the Network in March.
True, the new Kiev authorities, apparently, are not interested in an objective investigation of the snipers case. The other day it became known that the "fighters of the" Berkut "were appointed as guilty of shooting at people. Moreover: Kiev was suspected of this even by the special services of Russia.
It is noteworthy that Mikhail Saakashvili visited the Maidan in Kiev in the December revolutionary days. He spoke in support of supporters of Ukraine's European integration and called for a change of power.
Another person mentioned in the statement of the Georgian general is Givi Targamadze. In Russia, his name became widely known in connection with a criminal case against Sergey Udaltsov and Leonid Razvozzhaev.
The case of preparing for the organization of mass riots in various regions of Russia was instituted after checking the materials presented in the film "Anatomy of Protest-2", which captured the footage of the meeting of the Russian opposition with the Georgian politician Givi Targamadze.