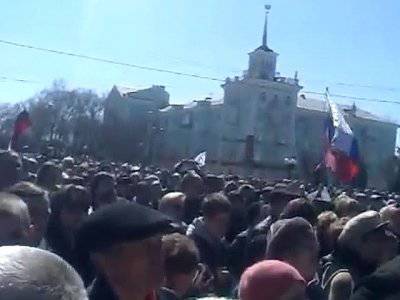 In Lugansk entered armored personnel carriers. "The military equipment came from Dnepropetrovsk. Where the military vehicles are located, as well as their number and how they will be used, is still unknown," the Ukrainian TV channel 1 + 1 informed.
The introduction of armored vehicles in Lugansk was caused by the actions of local residents who seized and detained the regional administration of the Security Service of Ukraine from 6 on April 2014, according to ITAR-TASS.
The head of the Ministry of Internal Affairs Arsen Avakov appointed by the Verkhovna Rada presented an ultimatum to the protesters. They were asked to hand over the buildings of the Security Service of Ukraine through the 48 clock, otherwise Avakov threatened to use the force option to release the building.
In Lugansk, where about a thousand people are blocking the building of the regional department of the SBU, in the morning negotiations with the authorities resumed. People's Deputy and presidential candidate Sergei Tigipko said that he managed to get into the building and talk to the people who had captured him.
"All the talk about the fact that there are some Russians present is pure fiction," Tigipko said. "In addition, there are no hostages there."
From 6 April, pro-Russian rallies are held in Donetsk, Kharkov and Lugansk in eastern Ukraine. Participants require a referendum on the status of their regions. In particular, on April 6, the protesters stormed the building of the SBU office in the Luhansk region. And on April 7 in Kharkov and Donetsk, supporters of federalization announced the creation of the People's Republic of Kharkov and the Donetsk People's Republic.