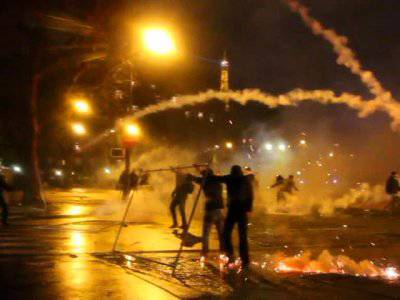 Activists of radical political groups held rallies in several French cities under the general title "Day of Wrath". The most massive actions took place in Lille and Toulouse. Not without clashes with the forces of law and order.
According to France Press, about three hundred people took to the streets in Toulouse. In clashes between demonstrators and police, six law enforcement officers were slightly injured. Nine people were detained.
About 120 people took part in the action in the center of Lille. The demonstrators demanded the resignation of President Francois Hollande and the new Prime Minister Manuel Waltz, and also expressed dissatisfaction with the policies of the European Union.
In Paris, there was a demonstration "against police violence." About 200 people took part in it - mainly relatives of those who died or were seriously injured due to unlawful actions of law enforcement officers.
"Day of Wrath" will continue on April 6 with shares in Lyon and Paris. The previous similar action took place in January, gathered about 20 thousands of people and ended with massive street clashes, ITAR-TASS reminds.