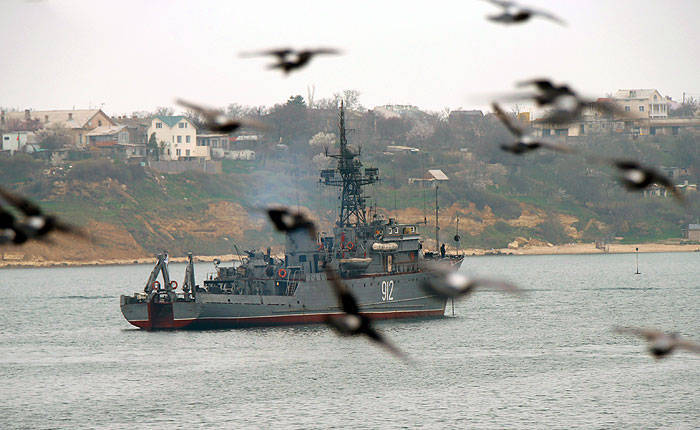 The State Duma on Monday unanimously adopted a bill on the denunciation of Russian-Ukrainian agreements on the Black Sea
the fleet
. 443 deputies voted for with the required minimum of 226 votes; nobody voted against.
The relevant document was submitted by Russian President Vladimir Putin on March 28, he was supported by all parliamentary factions.
The law terminates the Russian-Ukrainian agreements on the parameters of the division of the Black Sea Fleet, on the status and conditions of the Black Sea Fleet in the territory of Ukraine. These documents were signed in Kiev on 28 May 1997. The intergovernmental agreement on mutual settlements related to the division of the Black Sea Fleet, also signed on May 28 of 1997, also terminates.
In addition, the State Duma denounced the agreement of 21 on April 2010, signed in Kharkov. According to the document, the stay of the Russian Black Sea Fleet in Ukraine after 2017 was extended by 25 years. In exchange for this, Kiev immediately received a gas discount in 100 dollars per thousand cubic meters, which was provided from the Russian budget.
As a result of the denunciation of this agreement, the price of gas for Ukraine from April may amount to $ 450-500 per 1 thousand cubic meters.
The explanatory note to the bill approved by the State Duma states that the subject of the Russian-Ukrainian agreements was lost as a result of the adoption of the Crimea and Sevastopol into Russia. The document refers to the articles 61 and 62 of the Vienna Convention on the Law of International Treaties 1969, according to which Russia has the right to terminate the relevant agreements.
Leonid Slutsky, head of the relevant committee for CIS affairs, Eurasian integration and relations with compatriots, presenting the committee's position at the meeting, said: "From now on, the status and conditions of the Black Sea fleet in the city of Sevastopol will be regulated in the constitutional field of the Russian Federation."
He named
historical
The vote in the State Duma on the denunciation of Russian-Ukrainian agreements.
Deputy Foreign Minister Grigory Karasin, in turn, said that Russia would be ready to discuss with future legitimate authorities of Ukraine legal and financial issues that may arise after the denunciation of the agreements.